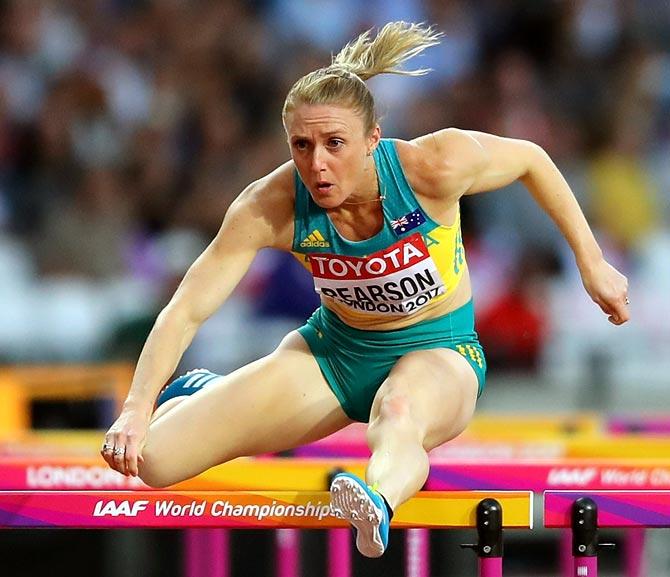 IMAGE: Sally Pearson competes in the women's 100 metres hurdles final. Photograph: Richard Heathcote/Getty Images
Australia's Sally Pearson completed one of the great sporting comebacks when she overcame two years of injury agony to win the world 100 metres hurdles title at the age of 30 on Saturday.

Pearson, world champion in 2011 and Olympic gold medallist in London in 2012 and with Olympic and world silvers to her name, held off Dawn Harper Nelson, one of four Americans in the field, for an emotional triumph.

She missed the last two seasons due to hamstring and Achilles injuries and a badly broken wrist and feared for her career. But when she clocked 12.48 seconds in the London Diamond League last month - her fastest time for five years - she realised she was in medal-contending form.

She then underlined that by reaching the final as the fastest qualifier in 12.53 on Friday.

Pearson did not need to go that fast on Saturday but barely noticed the clock as she posted 12.59 seconds, screaming "oh my God" repeatedly after crossing the line.

"I've worked so hard, I don't know what has just happened out there. I'm so tired but I'm sure it will sink in soon," she said.

On her joyous finish-line exclamations, she said: "I don't know if it was surprise but the emotion just escaped my body because I was so excited and so happy to have achieved what I've worked so hard for.

"I love this stadium, I love the people and I'm so happy to be back here doing the same thing again."

Harper Nelson, the 2008 Olympic champion and silver medallist behind Pearson in 2012 took silver in 12.63 ahead of Germany's Pamela Dutkiewicz, who claimed a surprise bronze in 12.72.

Mayer survives pole-vault jitters to win decathlon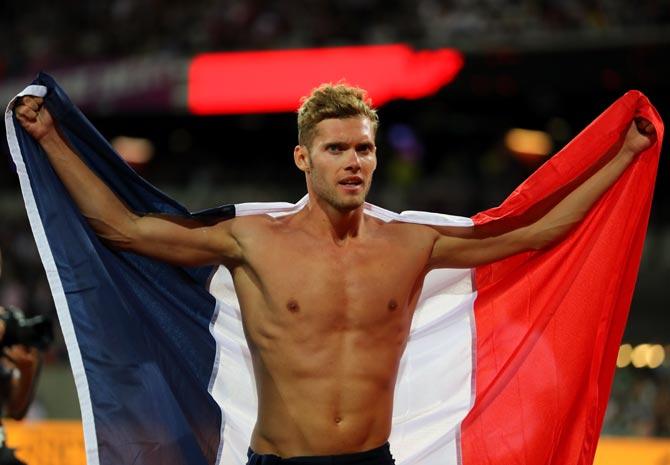 IMAGE: Kevin Mayer celebrates after the men's Decathlon 1500 metres and winning the gold medal during day nine. Photograph: Richard Heathcote/Getty Images
Frenchman Kevin Mayer led throughout the day to win the world decathlon title on Saturday and fill the void left by Ashton Eaton's retirement -- although he nearly threw it all away on the pole vault.

German pair Rico Freimuth and Kai Kazmirek took silver and bronze while twice former world champion Trey Hardee was one of more than a dozen of the original 35 starters who dropped out over the course of the notoriously tough contest.

Olympic silver medallist Mayer led from the shot put on Friday morning and looked to be cruising to his first world gold until he decided to skip the opening pole vault heights and enter the fray at 5.10.

The move nearly proved disastrous as he missed his first two attempts, then grazed the bar on his third.

Despite an unnerving wobble, the bar stayed in place and Mayer avoided a zero score which would have wrecked his chances, instead increasing his lead over Rico

He comfortably came through the javelin and 1,500 metres, the final of the 10 events staged over two exhausting days, to see himself safely home.

Mayer finished on 8,768 points with Freimuth, with 8,564 and Kai Kazmirek 8,488, taking the silver and bronze medals.

"I am so, so tired. I cannot even imagine I am the world champion," said Mayer. "The first day was perfect. I am so proud. This competition was so hard. I just wanted to finish it ... I was so anxious."

Hardee, fifth overnight, pulled out after a miserable morning in which he failed to pick up any points in the first two events.

He clattered into the third hurdle in the 110 metres hurdles, then produced three foul throws in the discus before calling it a day.

The event was left open by the retirement earlier this year of American Ashton Eaton, who had dominated recently, winning the last two Olympic and world titles.

Canadian Damian Warner, often seen as the man most likely to break Eaton's dominance, finished fifth.

German Vetter wins javelin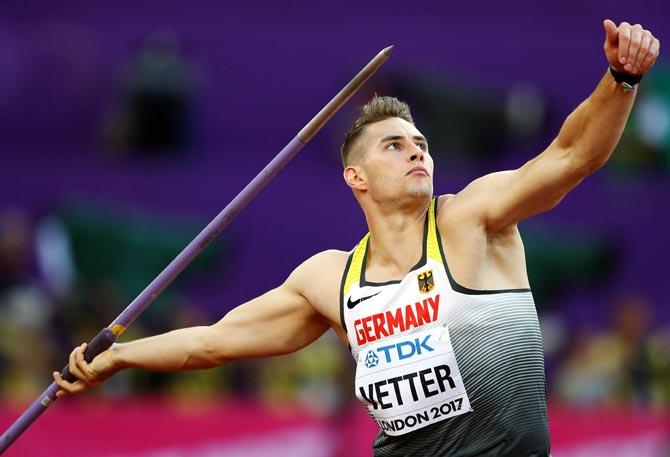 IMAGE: Johannes Vetter of Germany. Photograph: Michael Steele/Getty Images

Tearful Johannes Vetter made up for just missing out on an Olympic medal last year when the German won the javelin at the World Athletics Championships on Saturday as his great rival and Olympic champion Thomas Roehler finished off the podium.

Czech Republic pair Jakub Vadlejch, coached by world record holder Jan Zelezny, and Petr Frydrych threw personal bests of 89.73 and 88.32 metres respectively to take silver and bronze.

Vetter's opening throw of 89.89 was enough to win the gold and the 24-year-old was overcome with emotion after clinching the title which was confirmed after Vadlejch's last throw.

Roehler, who like compatriot Vetter has thrown over 90 metres this season, was beaten into fourth with 88.26.

"I was shaking until my last attempt because I had used all of my energy in the first two throws," said Vetter who was fourth at the Rio de Janeiro Games.

"Technically they were not perfect. I thought I could throw further. It does not matter how far you throw. I threw enough for a gold medal."

"It was very emotional for me at the end of the competition because of the pressure in the last few weeks and days -- it was very high."

US women reclaim 4x100m world title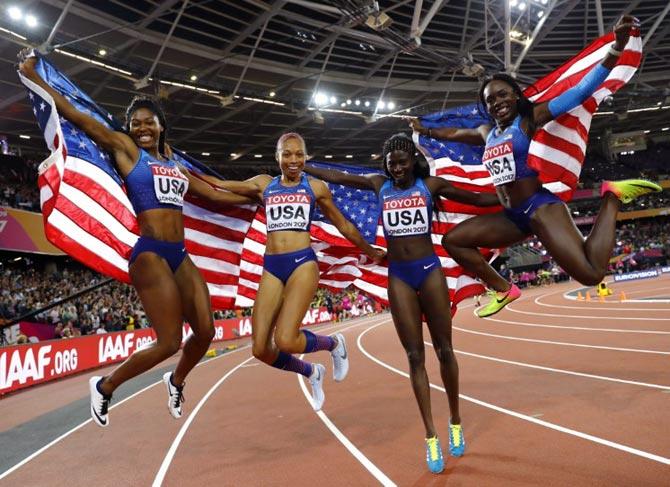 IMAGE: Aaliyah Brown, Allyson Felix, Morolake Akinosun and Torie Bowie of the US celebrate winning the women's 4x100 metres relay final. Photograph: Kai Pfaffenbach/Reuters

Individual champion Tori Bowie anchored the United States to victory in the women's 4x100 metres relay at the World Championships on Saturday.

It was the sixth time the US have won the event and the gold was a record 15th World Championship medal for Allyson Felix, who ran the second leg.

The Americans, Olympic gold medallists in Rio last year, were led off by Aaliyah Brown who flew out of the blocks to start the run that brought them the world title they last won in 2011.

Felix, part of that winning team in Daegu, took the baton to Morolake Akinosun who handed on to Bowie, the 100m world champion.

The 26-year-old had pulled out of competing in the 200m earlier in the week due to suffering cuts and bruises in her sprint triumph last Sunday.

However, she looked in no discomfort as she surged down the final straight to win in 41.82 seconds.

"We are on top of the world," Bowie said. "I am grateful to be able to run and bring these ladies home to the gold. It has been a mixed week but two gold medals is amazing for me."