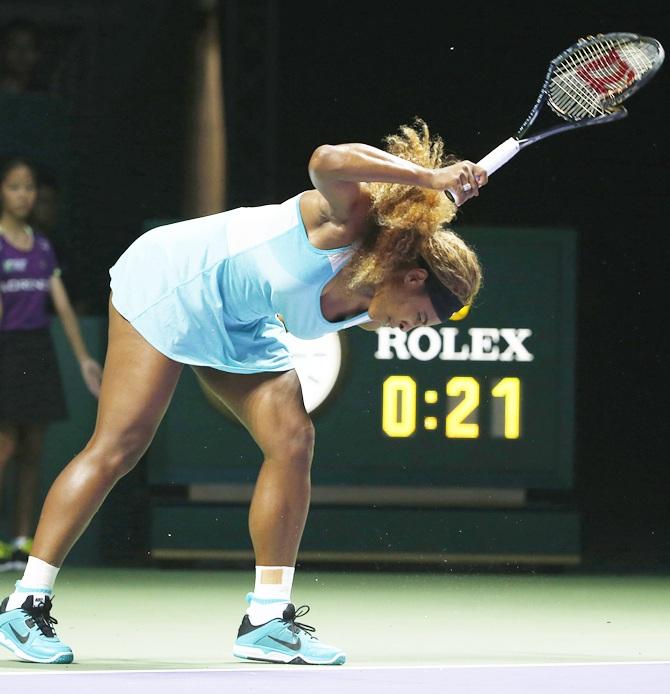 Serena Williams of the US smashes her second racket during her WTA Finals singles semi-final against Caroline Wozniacki of Denmark. Photograph: Edgar Su/Reuters
Serena Williams smashed a racquet as she recovered from a set down to overcome stubborn resistance from Caroline Wozniacki in the semi-finals at the WTA Finals last week. It was not the first time the world No 1 abused her playing equipment. Take a look at previous moments when she soaked up her frustration on court by smashing her racket.
Serena Williams destroyed Romania's Simona Halep 6-3, 6-0 on Sunday to win the WTA Finals in Singapore, proving once again why she remains the most formidable force in women's tennis.
But the triumph was not before displaying her racket-smashing skills in the semi-final against dear friend Caroline Wozniacki.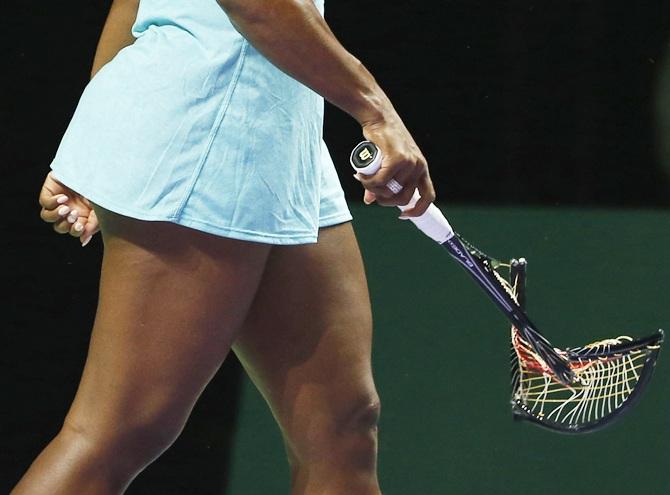 Serena Williams of the US walks off the court with her second broken racquet. Photograph: Edgar Su/Reuters
You won't like Serena when she's angry.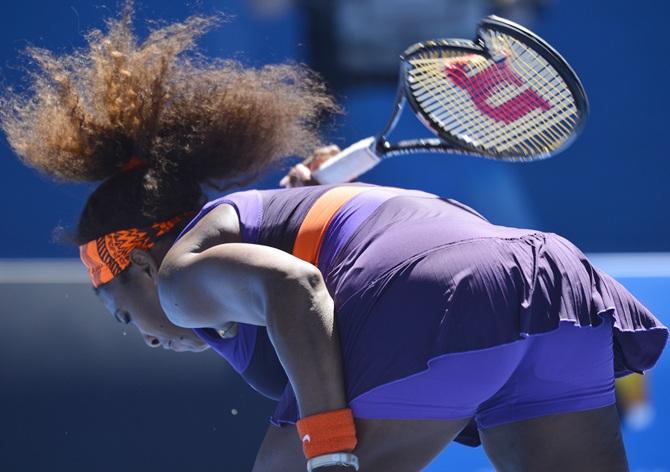 Serena Williams hits her racket into the ground during her women's singles quarter-final against compatriot Sloane Stephens at the Australian Open in Melbourne January 23, 2013. Photograph: Toby Melville/Reuters
Williams called her racquet smash 'legendary', but insisted she wasn't proud of losing her cool.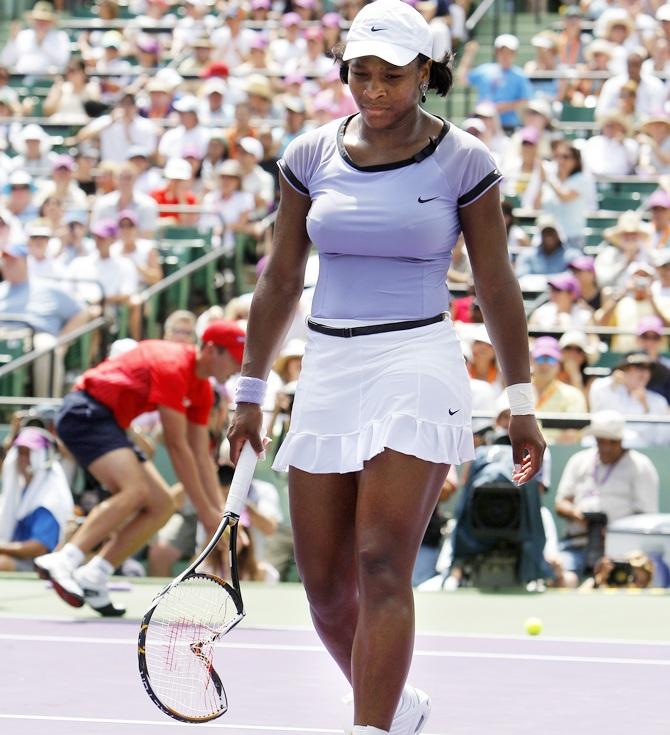 Serena Williams walks with her broken racquet after hitting it against the ground during her final against Jelena Jankovic of Serbia at the Sony Ericsson Open in Florida, April 5, 2008. Photograph: Carlos Barria/Reuters
She slammed her racquet three times and thus destroyed her equipment. She also incurred an official warning from the chair umpire.
"I kind of lost my cool a little bit," Williams said. "At least you know I'm passionate. I give 200 per cent."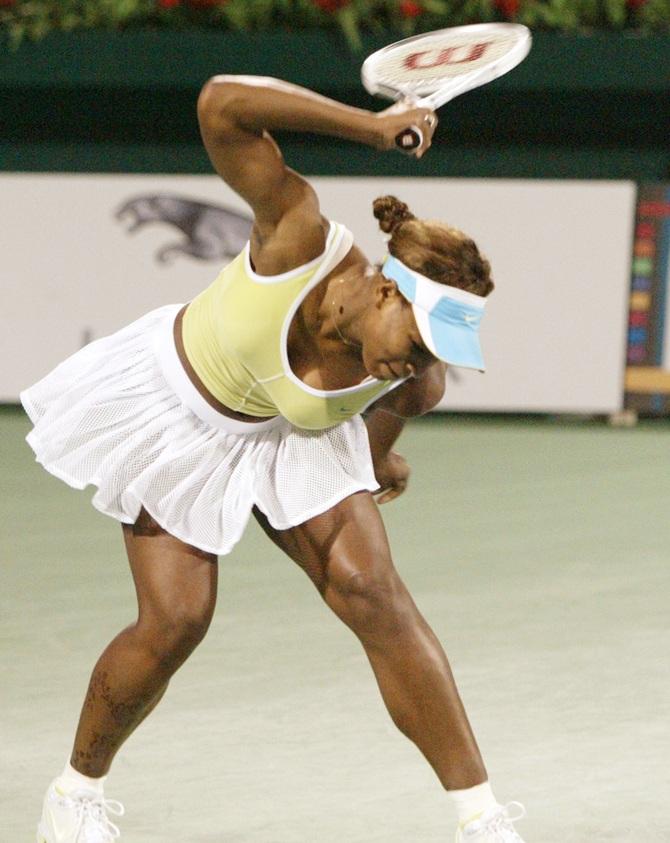 Serena Williams reacts after smashing her racquet in her first round match against Angela Haynes of the US at Wimbledon on June 21, 2005. Williams won the match 6-7, 6-4, 6-2. Photograph: Carlos Barria/Reuters
"When I play, doesn't matter how I feel, I'm going to give everything I have for every shot and every point."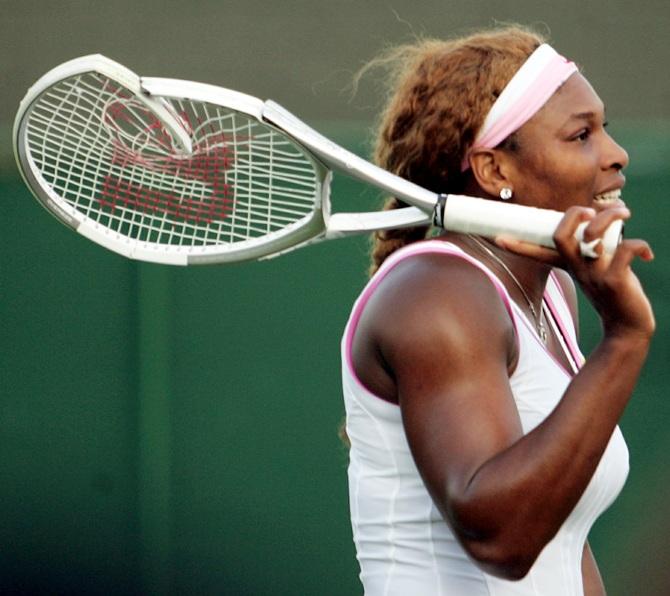 Serena Williams smashes her racquet during her match against Jelena Jankovic of Serbia and Montenegro in the semi-finals of the Dubai Open on March 4, 2005. Photograph: Caren Firouz/Reuters
"I'm not the kind of girl that goes out there and just plays through the motions and just doesn't care whether I win or lose. I give everything."