'I prayed hard. Prayers not to win but for strength. All glory to God'
'I haven't beaten her in a really long time, but I love every time that I step on the court to play against her because she's been the best and, as a tennis player, you want to play against the best'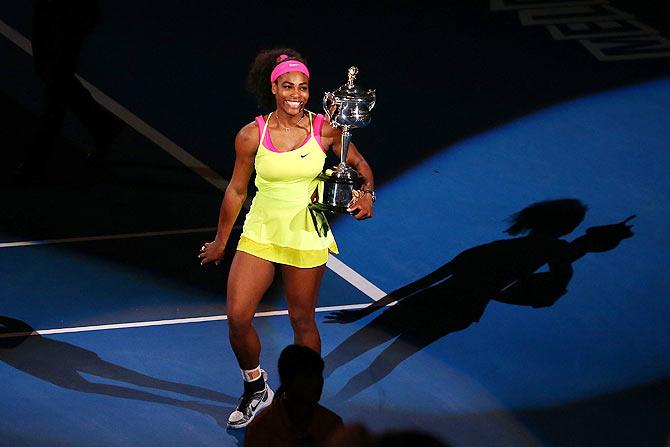 Serena Williams of the United States does a lap of honour as she holds the Daphne Akhurst Memorial Cup after winning Australian Open women's final against Maria Sharapova on Saturday. Photograph: Scott Barbour/Getty Images
Top seed Serena Williams fought off a barking cough to clinch a historic 19th Grand Slam singles title with a 6-3, 7-6(5) victory over Maria Sharapova in the Australian Open final on Saturday.
Williams's sixth title at Melbourne Park moved her into a tie with fellow American Helen Wills Moody in third on the all-time list after she joined Martina Navratilova and Chris Evert on 18 at last year's US Open.
Only Australia's Margaret Court (24) and Germany's Steffi Graf (22), who holds the record for the Open era, have more Grand Slam singles titles than the 33-year-old American.
During her presentation speech, Serena, in a sign of humility, praising the heavens after her win.
"I prayed hard. Prayers not to win but for strength. All glory to God," the World No 1 said.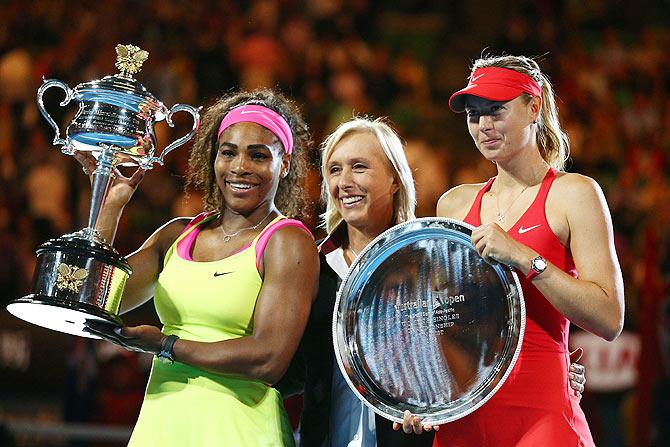 Martina Navratilova poses with Serena Williams and Maria Sharapova after the presentation ceremony following the Australian Open women's final. Photograph: Cameron Spencer/Getty Images
"Growing up, I wasn't the richest, but I had a rich family in spirit and support," Williams said at the trophy presentation.
"Standing here with 19 championships is something I never thought would happen.
"I went on the courts with a ball and racquet and hope and that's all I had.
"I'm so honoured to be here tonight and to hold this 19th trophy."
Williams had not lost to Sharapova since the 2004 WTA Finals, a run of 15 successive victories and was not about to let the Russian end that streak on Saturday.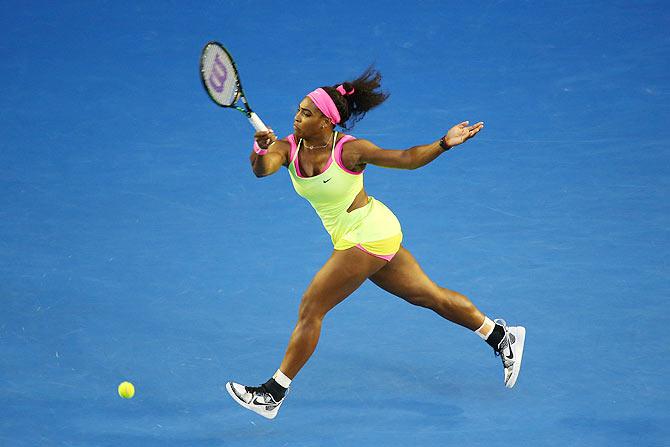 Serena Williams plays a forehand against Maria Sharapova. Photograph: Quinn Rooney/Getty Images
The tone of the match was set in the first game when Williams broke the Russian's serve.
Even though rain forced them off court for 12 minutes as officials closed the roof in the sixth game, the American was not bothered by the disruption as she reeled off the next six points to establish a 5-2 lead after they returned.
Williams sealed the first set when she broke Sharapova for the third time and then continued her momentum in the second with a powerful service game while she put pressure on the Russian's serve.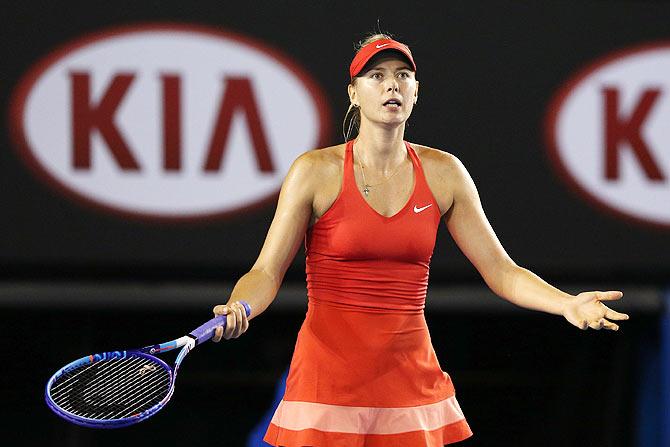 Maria Sharapova reacts to a point in her match against Serena Williams. Photograph: Hannah Peters/Getty Images
Sharapova battled to stay in the match and did have chances to break, but Williams simply reached back and smashed down a succession of massive serves to get out of trouble.
She sealed victory in the tiebreak on her third match point when she powered down her 18th ace and then celebrated at the net after shaking hands with the Russian.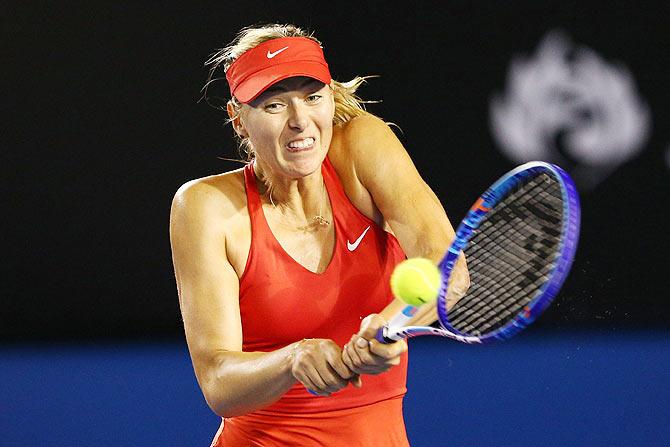 Maria Sharapova plays a backhand against Serena Williams. Photograph: Cameron Spencer/Getty Images
"I've got to congratulate Serena on creating history and on playing some of her best tennis," Sharapova said.
"I haven't beaten her in a really long time, but I love every time that I step on the court to play against her because she's been the best and, as a tennis player, you want to play against the best.
"So congratulations on an incredible achievement."