Pele was so angry with a school classmate who dreamed up his nickname that he punched him, the soccer great recalled on Sunday.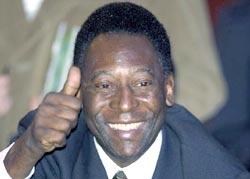 "Pele isn't my real name," the Brazilian told the German newspaper Bild am Sonntag in an interview. "My name is Edson. I didn't come up with Pele myself. I didn't want the name. Pele sounds like baby-talk in Portuguese. Edson sounds like Thomas Edison, the man who invented the light bulb.
"But a classmate wanted to anger me with the name Pele. I flipped out when he called me that. I punched him....I was actually
a good student and wouldn't hurt a fly. But for the punch I got suspended from school for two days."
Pele, now 65, began life as Edson Arantes do Nascimento and remains unsurpassed as the world's greatest player. He won the World Cup with Brazil in 1958, 1962 and 1970.
He told the newspaper Brazil were top contenders to win the World Cup in Germany starting on June 9 but said favourites never had an easy task.
"We're the clear favourites but favourites have often failed," he said. "Whether it's Brazil, Spain or England -- there seems to be a special curse on them. That's why we have to be ready, especially when it comes to hosts Germany."