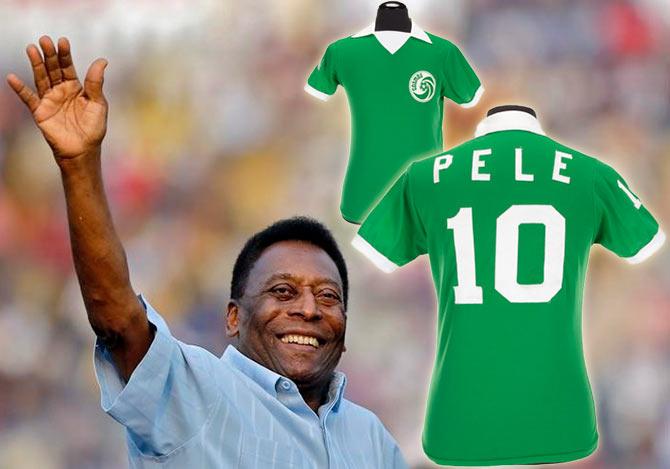 IMAGE: Brazilian football legend Pele and a green Umbro brand New York Cosmos football jersey number "10" worn by Pele during the 1976 North American Soccer League (NASL) season is shown in this handout image released on March 8, 2016. Photograph: Anindito Mukherjee/Reuters and Julien's Auctions/Handout via Reuters
Triple World Cup soccer winner Pele is putting some 2,000 items up for auction, including his three World Cup medals and a one of a kind Jules Rimet trophy that could fetch up to one million dollars, auctioneers said on Thursday.
The Brazilian regarded by many as the greatest soccer player of all time is also selling off his 1,000th goal ball and crown, and jerseys he wore while playing for Brazilian club Santos FC and the New York Cosmos in what marks his first ever public offering of career memorabilia, Julien's Auctions said.
"Pele is like the Marilyn Monroe of the sports world. He is such an icon and a great ambassador for soccer," Martin Nolan, executive director of Beverly Hills-based Julien's Auctions, told Reuters.
The three-day auction will take place in London from June 7-9 and will be preceded by a public exhibition starting June 1.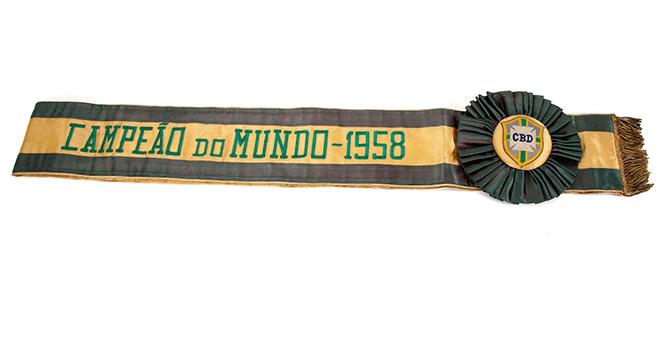 IMAGE: A yellow and green satin sash with a gold bullion fringe presented to Pele by the Brazilian Sport Confederation (CBD) to commemorate Brazil's legendary 1958 FIFA World Cup victory will also be put up for auction. Photograph: Julien's Auctions/Handout via Reuters
Pele, whose given name is Edson Arantes do Nascimento, became in 1958 at age 17 the youngest ever person to play in, and score in a World Cup final. He went on to help Brazil to World Cup victories in 1962 and 1970, and holds the Guinness World Record for most goals in a career with 1,283.
Now 75 years old, and after recent replacement hip and prostate surgery, Pele said that having donated much of his collection to the city of Santos, he had "decided to allow fans and collectors to own a piece of my history as well. I hope they treasure these artifacts and share my story with their children and generations to come."
He said a portion of the proceeds will be donated to the Pequeno Principe children's hospital in the Brazilian city of Curitiba.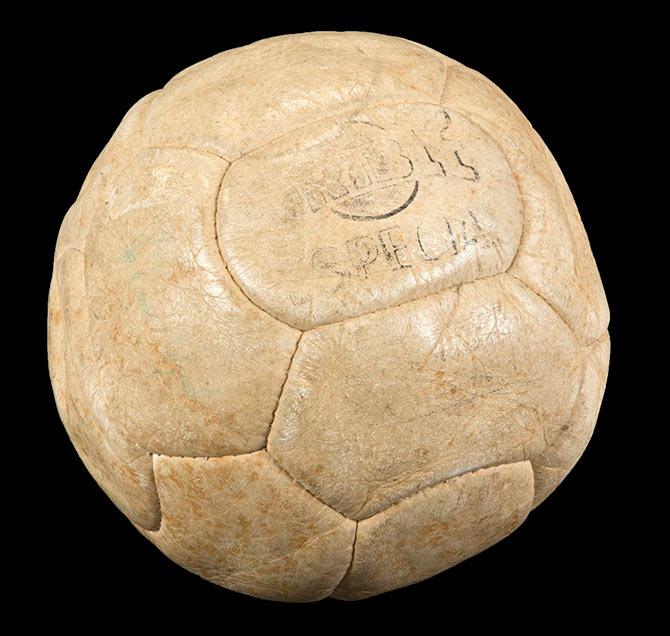 IMAGE: A white leather Drible brand football used by Pele to score his 1,000th career goal in a match that pitted his Santos FC team against rival Club de Regatas Vasco da Gama, known as Vasco da Gama, at Maracana Stadium in Rio de Janeiro, Brazil on November 19, 1969 is another one of the legend's precious items that is set to go under the hammer. Photograph: Julien's Auctions/Handout via Reuters
The top item for auction is a Jules Rimet trophy that was created especially for Pele by world soccer body FIFA and the Mexican government after he led Brazil to the nation's third World Cup victory in Mexico in 1970. It is inscribed with his three wins for Brazil.
Julien's has placed an estimated price of $ 400,000 - $ 600,000 on the trophy but says it could sell for much more.
"It is such a unique item. We think that is a very conservative estimate. This is possibly something that could sell for up to one million dollars," said Nolan.
Pele's three World Cup medals are expected to fetch up to $ 200,000, while the ball with which he scored his 1,000th goal is expected to sell for $ 40,000-$ 60,000.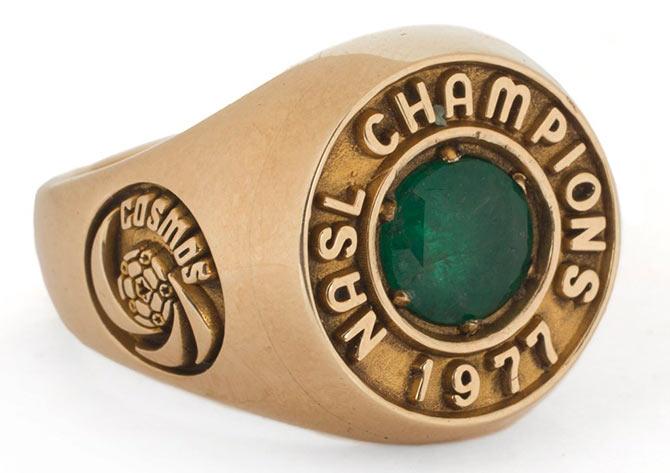 IMAGE: Soccer fans will also get to bid for this 1977 North American Soccer League (NASL) Champions ring presented to Pele for being a member of the 1977 NASL champion Cosmos, previously called the 'New York Cosmos'. Photograph: Julien's Auctions/Handout via Reuters
The player's 1977 New York Cosmos NASL championship ring, 2004 Summer Olympics Torch Relay and L'Equipe Athlete of the Century award are also for sale.
Yet the most humble and precious item of all, if it can be verified, may be a makeshift soccer ball made of rolled-up socks that the pre-teen Pele kicked around the streets of Bauru.
"We have softballs stitched up in canvas but we haven't definitively established yet that we have that first ball. If that ball was to exist it would be phenomenal," said Nolan.
ALSO READ