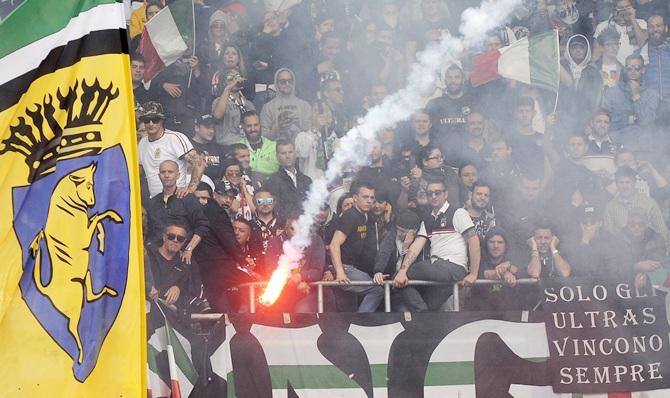 Juventus' supporters look on as a flare is thrown during their Italian Serie A match against Torino. Photograph: Giorgio Perottino/Reuters
At least 10 people were injured when a paper bomb exploded during the Turin soccer derby between Torino and Juventus on Sunday, Italian media reported.
First time in 20 years Torino beat Serie A leaders Juventus
The bomb -- like a banger -- went off during the first half of the Serie A match at Turin's Olympic Stadium, the reports said.
One bomb was thrown from the visiting stands where Juventus fans were sitting and 10 Torino supporters were injured by splinters which came off seats following the explosion, Gazzetta dello Sport's website said.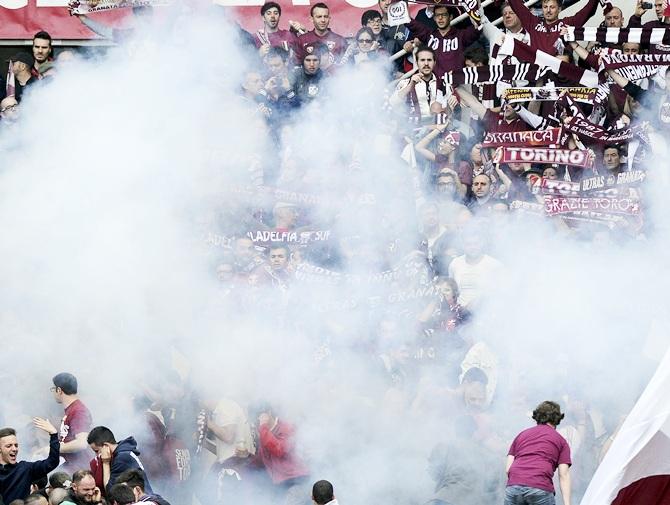 Torino's supporters look on as a firework explode during their Italian Serie A match against Juventus. Photograph: Giorgio Perottino/Reuters
Another bomb was thrown at the end of the match, hurting one more fan, it added.
Violence had broken out before the game when hundreds of Torino fans threw eggs, bottles and stones at the Juventus team bus when it arrived at the stadium, reports said.
Police in Turin could not immediately confirm the incidents, which happen from time to time in Italian soccer.
"This was a deplorable episode of serious violence," La Repubblica's website quoted Juventus sporting director Beppe Marotta as saying.
State-owned television station RAI said two fans had been arrested in connection with the bombs.
Torino won the match 2-1, marking their first victory over their more glamorous neighbours and Serie A leaders in 20 years.