Their inconsistency is clearly linked to the fitness of James Rodriguez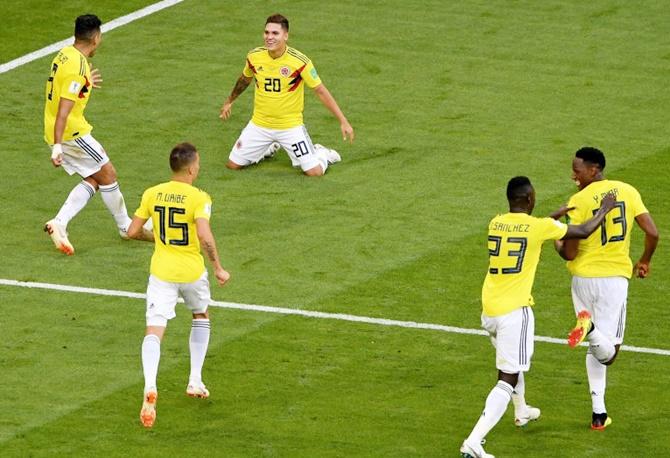 The key moment in Colombia's 1-0 World Cup win over Senegal was not a substitution, moment of inspiration or even refereeing controversy. It was an event in another game.
Colombia went into their Group H match needing to beat the Lions of Teranga to qualify, or draw and hope that Japan lost to Poland.
For an hour, the South Americans barely threatened a well-organised Senegal team and were lucky not to find themselves behind. But as soon as Poland took the lead against Japan in the other match and news filtered through to the Samara Arena, Colombia burst into life.
Whether it was the reaction of their fans which pushed them or simply that they had been released from their nerves is unclear, but within 15 minutes defender Yerry Mina had headed the only goal of the match to send them through to the last 16 as Group H winners.
They now meet Belgium or England in the last 16 and whoever comes up against them will have to try and work out which Colombia they will face -- the exhilarating team which thumped Poland 3-0 or the sluggish outfit who laboured against Senegal and Japan.
Colombia have been a mixed bag at the tournament.
Their 2-1 defeat to Japan in their opening game was largely conditioned by a red card and penalty which left them 1-0 behind and down to 10 men after five minutes.
In the second game, they swept aside Poland with one of the best performances by any team in Russia. Then, against Senegal, they struggled, admittedly against very strong and well-organised opponents.
Their inconsistency is clearly linked to the fitness of James Rodriguez who, according to FIFA statistics, has played a direct part in 10 of the 16 goals Colombia have scored in the 2014 and 2018 World Cups, scoring six of those himself.
Rodriguez came into the tournament carrying a calf muscle injury and was left on the bench for the first hour against Japan.
He played from the start against Poland and, although he also started against Senegal, he looked out of sorts, barely got involved in the game and was taken off injured after half an hour.
Without Rodriguez to worry about, Senegal were able to cut off the supply lines to Juan Cuadrado on the flank and striker Radamel Falcao, who caused havoc against Poland.
Colombia coach Jose Pekerman suggested that the uncertainty over Rodriguez' health was unsettling the team.
"It's a very tough situation for my team," he said. "I didn't want to address this earlier as it seems that these topics can overshadow everything else."
"He trained normally yesterday....he stayed on afterwards practicing free kicks and penalties and he was fully fit."
"Right now I really don't know where he stands."