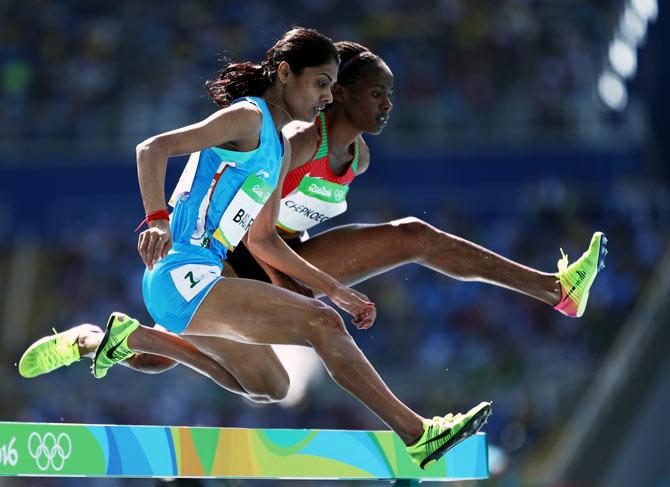 IMAGE: India's Lalita Babar competes in the women's 3000m Steeplechase during the Rio 2016 Olympic Games. Photograph: Paul Gilham/Getty Images .
Woman steeplechaser Lalita Babar carries the fervent hopes of the sports fans to finally open India's medal tally on day 10 of the Rio Olympics on Monday.
It has been a disastrous outing, barring a few notable exceptions like pint-sized gymnast Dipa Karmakar, for the 100-plus Indian contingent which is now looking up to the Maharashtra woman Lalita to find the elusive medal and create history as the first from the country to climb the podium in athletics.
Be that as it may, it's not going to be an easy task to achieve for the girl from a village in Satara, who clipped nearly seven seconds off compatriot Sudha Singh's national mark when qualifying for the final here through the heats.
Lalita's feat, the first time that a track athlete from the country has made it to the final in 32 years, has been among the very few bright spots for India in the Games which has seen most of its competitors falling way short of expectations.
Also due to step into the athletics arena, on Monday, are Renjith Maheshwary (men's triple jump), Srabani Nanda (women's 200m) and Seema Punia (women's discus).
Wrestlers start their action in the Greco Roman style with Ravinder Khatri taking part in the 85 kg while lone surviving boxing hope, Vikas Krishan, will strive to progress to the semi-finals and a sure medal in the men's 75 kg class.