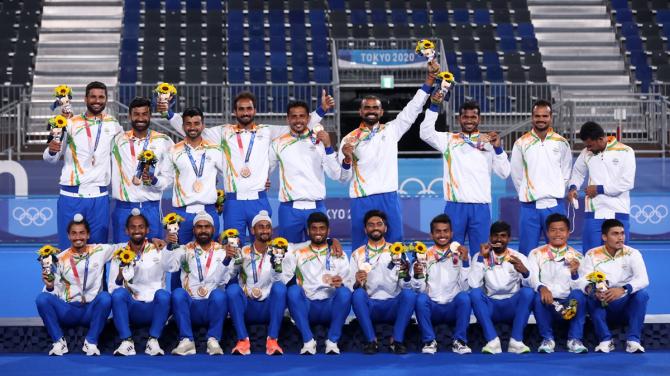 India's men's team brought back memories of the country's golden era in hockey when it won eight Olympic gold medals by defeating Germany in a thriller 5-4 to win bronze at the Tokyo Games on Thursday.
The medal, which came after 41 years, erased four decades of disappointment in the sport at the quadrennial jamboree.
Wrestling star Ravi Dahiya also added to the celebrations after winning silver on his Olympics debut. It swelled India's haul at the ongoing Games to five medals.
Here's a look at the country's athletes' showing at the Games on Thursday.
ATHLETICS
Sandeep Kumar, Rahul Rohilla and K T Irfan finished 23rd, 47th and 51st respectively in men's 20km Walk.
GOLF
Aditi Ashok and Diksha Dagar at tied second and tied 53rd respectively at the end of women's Individual stroke play Round 2.
HOCKEY
India beat Germany 5-4 in men's bronze medal match.
WRESTLING
Anshu Malik lost to Russian Olympic Committee's Valeria Koblova in repechage round of women's Freestyle 57kg.
Vinesh Phogat beat Sweden's Sofia Magdalena Mattsson, lost to Vanesa Kaladzinskaya in quarter-finals of women's Freestyle 53kg.
Ravi Dahiya lost to Russian Olympic Committee's Zavur Uguev in men's Freestyle 57kg final.
Deepak Punia lost to San Marino's Myles Nazem Amine in men's Freestyle 86kg bronze medal match.