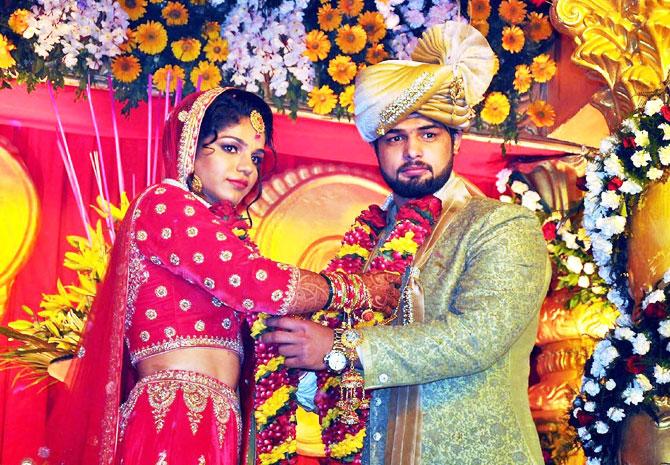 IMAGE: Indian wrestler Sakshi Malik with and her husband and fellow wrestler Satyawart Kadian exchange garlands during their wedding ceremony in Rohtak on Sunday. Photograph: PTI
Rio Olympic bronze medal-winning wrestler Sakshi Malik married fellow wrestler Satyawart Kadian during a traditional ceremony in Rohtak, Haryana, on Sunday.
The marriage ceremony was held last evening and was attended by two-time Olympic medallist Sushil Kumar, former Haryana Chief Minister Bhupinder Singh Hooda and senior Indian National Lok Dal leader Abhay Singh Chautala, among others.
The two had got engaged in October last year and according to reports, they had agreed upon the wedding before Malik had left for Rio to compete in the Olympics.
Sakshi made history at Rio by becoming India's first female wrestler to win an Olympic medal.
Her husband Satyawart also has a decent wrestling record to his name.
Satyawart Kadian first represented India in the 2010 Youth Olympics where he won a bronze medal.
In the 2013 World Youth Wrestling Championships, he was the only Indian to return with a medal having won a bronze against Turkish opposition.
WATCH THE VIDEO HERE: