Given the choice, Nadia Comaneci would have become a surgeon and indulged her fascination with blood on a daily basis. Instead she had to make do with becoming the world's most celebrated gymnast.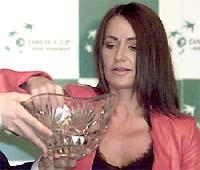 "It's hard to believe in two years I'll celebrate the 30th anniversary of my Olympic achievements," Comaneci told Reuters in an interview ahead of the Athens Games next week.
Born in 1961 in the factory town of Onesti to a car mechanic named Gheorghe and his wife Stefania, a pony-tailed Comaneci created Olympic history when she became the first gymnast to score a perfect 10 during the team competition in the 1976 Montreal Games.
After astonishing the judges with her daring and gravity-defying skills on the asymmetric bars, the Romanian teenager performed six more perfect routines before the Games were over.
While the 1.4-metre tall athlete left Canada with gold medals in the all-round competition, the balance beam and the asymmetric bars, her feat forced the world gymnastics federation to re-design their scoreboards.
"I remember everything from 1976. I remember I was 14 and I remember my routines," said Comaneci, now aged 42.
"I remember before the Olympics, I was asked 'what do you think you're going to do in the Olympics?' and I said 'I'm hoping I'm going to win a medal and if possible it's going to be a gold one'.
"I had no idea there were no 10s before as I didn't really watch the sport. It was a 1.00 on the scoreboard because they didn't have the spaces to accommodate a 10.00.
"Because of the gasps around the arena, I looked around and saw the 1.00 on the scoreboard and didn't understand what was happening.
"I was wondering whether they were going to change it to a 9.00 or what as everybody was confused and I knew my routine wasn't that bad," she added dissolving into giggles.
CAREFUL EYE
Despite spending her formative years in a gym, where she trained for at least six hours a day under the careful eye of Bela Karolyi, Comaneci never imagined that the rest of her life would be dictated by a feat she achieved as a 14-year-old.
"I had no idea the impact I would make after those routines. I only realised later that people watched me and people knew exactly where they were when I got my 10s," said Comaneci, who went on to win two more golds at the 1980 Moscow Games.
"At 14, you think you compete, you retire and you get a job. I didn't think gymnastics
was a career that was going to change my life.
"I thought I was going to retire at 20 and I was going to be a surgeon. I like blood, I've been to a few surgeries and I'm very curious (about it). It was very unbelievable for me to watch.
"I thought I was going to get a job like my mum or my father.
"I'm amazed people still remember me and associate me with the '76 Games and that I make money now because of what I did at 14."
In spite of leading a privileged lifestyle in Romania after her Olympic heroics, Comaneci decided to escape Nicolae Ceausescu's brutal regime in November 1989.
With the help of a people smuggler, Comaneci hiked through icy terrain and muddy woods for six hours to cross the border into Hungary before flying to the United States four days later.
Although Ceausescu was deposed and executed only weeks later, Comaneci was determined to make a new life for herself in the U.S.
OPEN DOORS
"It's hard to adjust to life after gymnastics for some people because some people couldn't find their places and don't know what to do.
"If you're an Olympic champion, you can do a lot of things because it can open doors for a lot of things.
"But once you enter those doors, people don't just come to you and give you money because you're an Olympic champion. You have to do something good. So this is the challenge you have.
"You can use everything that you've accomplished for so many years and create a life for yourself.
"It is easier today as there are so many options. In my time there were only two options -- coaching or judging. There was nothing else. Now you can go into speaking engagements, promotions and things like that."
While her ambitions to join the medical profession were never fulfilled, Comaneci has perfected the art of public speaking since she married former American gymnast Bart Conner -- himself a double Olympic gold medallist -- eight years ago.
In the four months leading up to the Athens Games, Comaneci calculated she had spent just 10 days in the couple's home in Oklahoma.
Her promotional work has taken her to Romania, the Netherlands, India, Portugal and across the U.S. as she makes her way to Athens.
However, Comaneci is happy that she will be in the Greek capital only as a spectator.
"What we used to do many years ago was hard for our generation but I'm glad I'm not competing today, it's a lot harder," she said.