Briton Kelly Holmes produced a masterful 1,500 metres performance to win gold on Saturday and become only the third woman in Olympic history to complete the middle-distance double.
Just as she did in winning the 800 metres on Monday, Holmes judged the race to perfection, going wide and surging for home over the last 250 metres to win in three minutes 57.90 seconds, a personal best and a British record.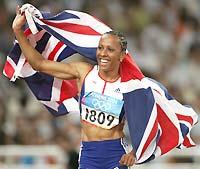 World champion Tatyana Tomashova of Russia took silver in a personal best 3:58.12 with Romanian Maria Cioncan collecting the bronze in 3:58.39, also a lifetime best.
"I just can't believe it. I am just gobsmacked," Holmes said.
"After the 800 metres it gave me a lot of confidence and going through the rounds I was feeling quite good.
"I was trying to place myself in the right position when I needed to. I was holding on for dear life, I could see them coming. The whole experience has just been amazing."
Holmes, who until six days ago had a bag full of global bronze and silver medals to show for years of effort, has now been catapulted into the ranks of the greats. Only Tatyana Kazankina of the Soviet Union in 1976 and Svetlana Masterkova of Russia in 1996 have previously managed the tough double.
The 34-year-old former soldier also becomes the first Briton to win two athletics golds in the same Games since Albert Hill did the 800-1,500 double in 1920.
The opening race of the final night of the Olympic athletics programme had a cagey start, with Russian Natalya Yevdokimova leading the runners through the first lap in 64 seconds.
Holmes was sitting safely out of trouble one from the back throughout and stayed there during the second lap, another 64-second circuit.
She began to work her way through the field and was handily placed on the shoulders of the front three as they took the bell.
Years of experience and the newly-found confidence that has surged through her since the 800 win enabled her to remain patient and ease her way forward on the back straight.
As Yevdokimova began to fade and the pack closed up, Holmes cleverly went wide at 200 metres and drove to the front.
Coming off the final bend she forged four metres clear and though Tomashova launched a spirited chase the Briton held on for a memorable golden double.