'(Scala) has said it is enough just to tell them they must not do so, and has rejected Prince Ali's request to use transparent voting booths'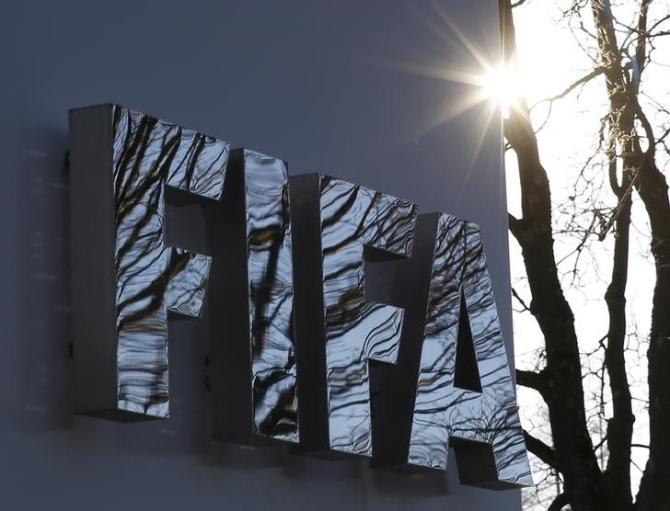 IMAGE: The FIFA logo is seen outside the FIFA headquarters in Zurich. Photo: Ruben Sprich/Reuters
FIFA has rejected a demand from a presidential candidate to use transparent voting booths at next week's election to ensure delegates do not photograph their ballot papers when they choose the head of football's world ruling body.
The request came from Prince Ali Bin Al Hussein of Jordan, who said he would take his case to the Court of Arbitration for Sport (CAS), sport's highest tribunal.
Prince Ali wanted to ensure that transparent booths were used at the Feb. 26 election "to safeguard the full transparency of the electoral proceedings", he said in a statement released by his French-based lawyer.
FIFA's 209 member national associations (FAs) each hold one vote at the election where Prince Ali is among five candidates standing to replace outgoing President Sepp Blatter, who is banned for eight years amid a graft scandal that has shaken football's global governing body. Under FIFA statutes, voting is secret.
The statement said Domenico Scala, head of FIFA's electoral committee, had admitted to Prince Ali in correspondence that the voters could produce evidence of their vote by using a mobile phone.
Scala rejected transparent booths, however, and said members would be reminded that voting is secret and told to hand over mobile phones and cameras before doing so.
"He (Scala) has said it is enough just to tell them they must not do so, and has rejected Prince Ali's request to use transparent voting booths," the statement said, adding that there was an "absence of any dedicated system to detect potential violations of this rule."
A spokesman for the electoral committee declined to comment.
Jerome Champagne, another presidential candidate, said this week that FAs were under pressure to vote for certain candidates and some had been asked to provide evidence of their vote.
Prince Ali has also said that FAs face reprisals if they fail to tow certain political lines.
"Development projects mysteriously stall; tournament hosting bids are suddenly compromised or withdrawn; national teams start to mysteriously face less favourable fixtures or and even referees," he said last week.