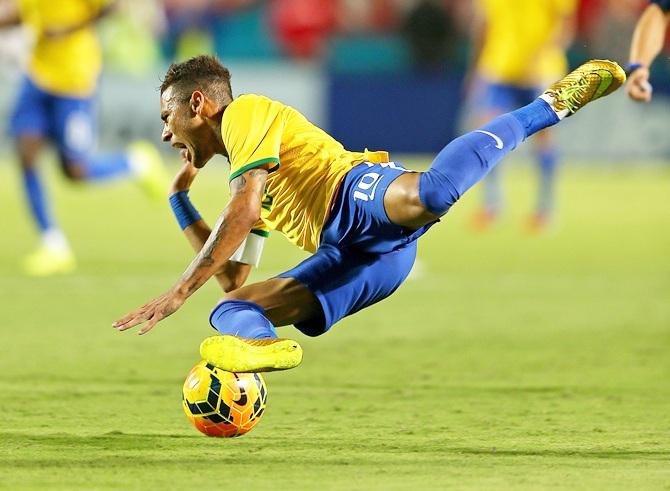 Neymar of Brazil reats to a tackle during an International Soccer friendly against Colombia. Photograph: Mike Ehrmann/Getty Images
A superb 83rd minute free-kick from captain Neymar gave Brazil a winning start under new coach Dunga as they beat Colombia 1-0 in a fiercely contested friendly on Friday.
Colombia played most of the second half down a man after midfielder Juan Cuadrado was sent off in the 49th minute following a second yellow card for a foul on Neymar and there was no shortage of effort - or indeed rough challenges - from both teams.
New Manchester United striker Radamel Falcao made his return to the Colombian team as a 77th minute substitute in front of a capacity 73,429 crowd at SunLife stadium.
Dunga, in his second spell as coach, replaced Luiz Felipe Scolari following the Selecao's humiliating home World Cup campaign, which included a 7-1 defeat to Germany in the semi-finals.
Colombia's last outing was their infamous 2-1 defeat to Brazil in the World Cup quarter-finals - a match which saw Neymar suffer a tournament ending injury after a knee in the back from Camilo Zuniga.
Zuniga and Neymar captained their respective teams and while there was no sign of animosity between the pair, the Barcelona forward came in for some rough attention from the Colombians.
Brazil's Diego Tardelli had an effort ruled out for offside in the 25th minute after good work from left-back Filipe Luis but Dunga's team should have had the lead seven minutes before the break.
Willian broke down the right and slipped the ball to Oscar but the Chelsea midfielder's shot was weak and off-target.
With the numerical advantage after Cuadrado's dismissal Brazil enjoyed the better of the game but it was not until seven minutes from the end that they broke through - a curling 25 metre free-kick from Neymar that flew into the top corner out of David Ospina's reach.
Falcao's introduction delighted the mostly Colombian crowd but the striker, still easing back from the knee ligament injury which cost him his place at the World Cup, will be disappointed not to have found the target with a header from close range in the final minute.
Ronaldinho signs for Mexico's Queretaro
Ronaldinho Gaucho. Photograph: Buda Mendes/Getty Images
Former Brazil and Barcelona midfielder Ronaldinho, twice the World Player of the Year, has signed a two year deal with Queretaro, the Mexican first division club said on Friday.
The 34-year-old, who has also played for Paris St Germain and AC Milan, became a free agent in July after cancelling his contract with Brazilian club Atletico Mineiro.
"We are very pleased to add to our ranks as of today, a player who has excelled in international football. A world champion in 2002, World Player of the Year in 2004 and 2005," the club, nicknamed 'Gallos' (roosters) said in the statement.
"We hope the fans of our city and around the country join in this celebration of having Ronaldinho as a Gallos who will contribute his experience and expertise to further strengthen this great team."
Queretaro, coached by former Mexico defender Ignacio Ambriz, are currently eighth in Liga MX after seven matches in the championship.
Ronaldinho, who was linked with numerous clubs around the world, said he would wear the number 49 shirt in Mexico as it was his lucky number.
"I've always been received with affection in Mexico - I am very motivated to represent Queretaro," he posted on his Twitter account.
Paralyzed Olympic star Amy Van Dyken returns to Arizona home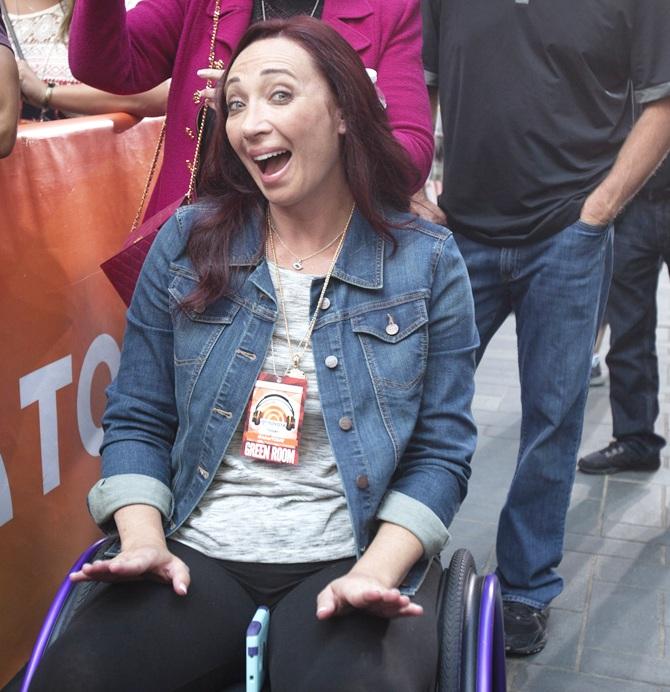 Former Olympic swimmer Amy Van Dyken-Rouen. Photograph: Carlo Allegri/Reuters
US Olympic champion swimmer Amy Van Dyken, who was paralyzed three months ago in an all-terrain vehicle crash, returned to her Arizona home on Friday in a wheelchair for the first time since the accident, a representative said.
Van Dyken, 41, a six-time Olympic gold medalist, flew to her home state and went to her Scottsdale residence after making a television appearance in New York, her spokesman Mark Zimmerman said.
"Arizona is her home base and she's excited about coming home," he said.
She suffered a severed spinal cord in the June 6 vehicle crash in Arizona that left her paralyzed from the waist down, and she has since chronicled her recovery process on social media.
After undergoing surgery to stabilize her spine, Van Dyken was taken from an Arizona medical facility to Colorado and spent two months in a specialized rehabilitation facility in suburban Denver.
She told NBC's "Today" show on Friday in New York that she was preparing for the trip to her home in Arizona since she arrived at the rehabilitation center and that she hopes to one day walk again.
Van Dyken, who took her first steps two weeks ago with the help of a robotic device, said she is working with a trainer on muscle activation.
"He helped me get back to the Olympics after two shoulder surgeries, why can't he get me back up on my feet now?" she said on the program. "We'll see what happens."
Known as a fierce competitor, Van Dyken was one of swimming's most decorated athletes during her glittering career. She won four gold medals in the 1996 Atlanta Olympics and another two at the 2000 Sydney games.