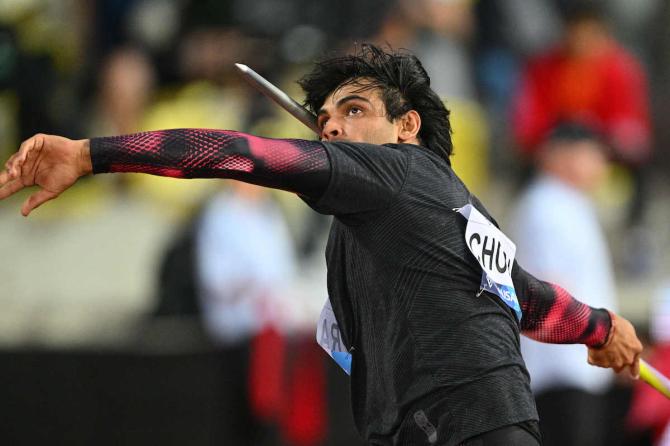 Olympic champion javelin thrower Neeraj Chopra will begin his season at the Diamond League meeting in Doha on May 5, as one of the top draws in a star-studded field.
The 25-year-old Chopra, the reigning Diamond League champion after winning the grand finale in September last, will join world champion Anderson Peters of Grenada and Olympic silver medallist Jakub Vadlejch of the Czech Republic in the first meet of the 14-leg one-day series of the season.
Chopra, who has a personal best of 89.94m which he achieved while finishing second at last year's Stockholm Diamond League meeting, is currently training in Turkey. He will be there till May 31.
Due to an injury, the Indian superstar missed the 2022 Doha Diamond League Meeting where Peters sent the spear to 93.07m, the fifth-longest throw in history, to win the title. World Championships bronze medallist Vadlejch had finished second with a personal best throw of 90.88m.
Alongside the decorated trio, the Doha Meeting will also see European champion Julian Weber of Germany, the Olympic and world fourth-place finisher with a best of 89.54m, former Olympic champion Keshorn Walcott (PB: 90.16m) of Trinidad & Tobago, former world champion and 2016 Olympic silver medallist Julius Yego (PB: 92.72m) of Kenya.
One of the targets for Chopra, the first Indian Olympic gold medallist in track and field, this year will be to cross the 90m mark, the gold standard in the world of javelin.
"I'm also getting closer to the 90m mark, so it would mean a lot for me to break that barrier," he said.
"While last year was a good year for me with a new personal best, world silver medal, and the win of the Wanda Diamond League, this year brings new opportunities. My goal for this summer is the World Championships, alongside the Asian Games and the defence of my Wanda Diamond League title."
After scripting history at the Tokyo Olympics in 2021, Chopra won a silver in the 2022 World Championships in USA, where Peters won gold, but failed to defend the Commonwealth Games gold, he had won in 2018, at the Birmingham edition last year due to an injury.
He, however, recovered on time from the injury -- which he had sustained during the World Championships -- to win the Diamond League Finals in Switzerland.
"I'm always overwhelmed by the warm support I get from Indians across the world and in Qatar that is particularly special, so I'm looking forward to opening my 2023 Wanda Diamond League season in Doha alongside a group of incredible athletes, in front of a passionate crowd."
The 2023 Diamond League comprises 14 meetings, starting with Doha at the Qatar Sports Club on May 5 and concluding with a single final across two days in Eugene, USA (September 16-17).