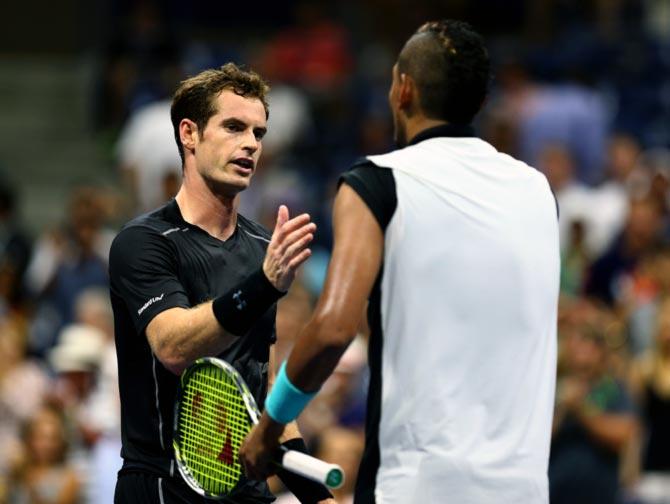 IMAGE: Andy Murray (left) shakes hands with Nick Kyrgios. Photograph: Clive Brunskill/Getty Images
World number two Andy Murray has thrown his support behind Nick Kyrgios amid uncertainty surrounding the under-fire Australian tennis star's participation at the forthcoming Rio Olympics.
Recently, the 21-year-old maverick came under severe criticism from Australian Olympic Committee boss Kitty Chiller, with the latter even threatening to snub Kyrgios if he doesn't improve his on-court behaviour.
However, two-time Grand Slam champion Murray said he couldn't understand the brouhaha over the matter, while pointing out that Kyrgios has behaved appropriately this season, news.com.au reported.
Murray insisted that Kyrgios is improving and learning day by day, adding that he hoped to see his Australian counterpart would feature in the Rio Games.
Last week, the Tennis Australia had also gave its backing to Kyrgios saying it was unfortunate to include him in recent row over player behavior as he has made a concerted effort to improve his performance and behaviour.
Responding to Chiller's criticism, Kyrgios had launched a Facebook poll to determine whether he should go to the Rio Games.