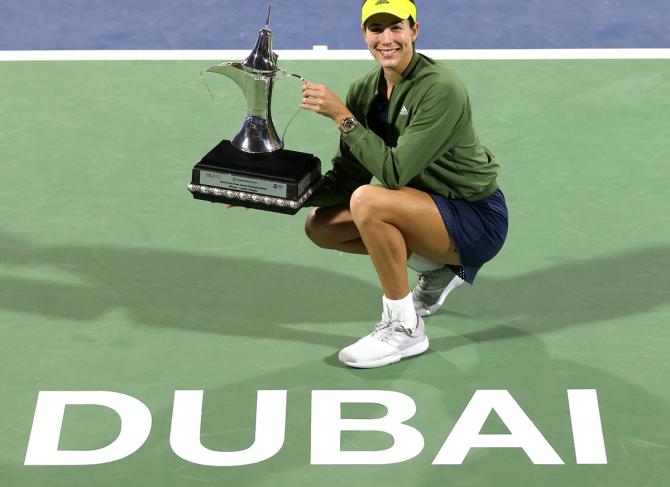 Former world number one Garbine Muguruza was relieved to finally avoid tripping at the last hurdle and end her trophy drought on Saturday in Dubai, the Spaniard's first WTA singles title in almost two years.
The 27-year-old Muguruza had last won a tournament at Monterrey, Mexico, in April, 2019. Since then she reached the title rounds at the 2020 Australian Open, Yarra Valley Classic in Melbourne in February and last week's event in Doha.
"It means a lot, it's never easy to win titles," Muguruza told reporters after her 7-6(6), 6-3 win over Czech Barbora Krejcikova.
"It doesn't happen often, and I'm excited that it happened now, after a few finals that didn't go my way. A nice relief to be able to hold a champion's trophy and not the finalist's trophy."
The strongly built Spaniard won her maiden Grand Slam title at Roland Garros in 2016 and bagged her second at Wimbledon the following year to climb to the top of the women's rankings.
She is ranked 16th but leads the WTA tour with 18 victories during the 2021 season.
"Definitely it helps the confidence having a trophy under your belt," Muguruza said. "It's a sign, a real proof that you're playing well, that you're doing the right things."
"But I've always been very determined in that way and believed in myself. I always believe every time I go out there that I'm one of the players that can get the trophy ... and I've always believed that in good moments and in bad moments."
Muguruza said the last two weeks have been mentally challenging for her after her coach, Conchita Martinez, tested positive for the new coronavirus after arriving in Doha for the Qatar Open.
Playing 10 straight matches was also physically very demanding.
"Very hard nowadays because I feel like the level is much stronger," said Muguruza. "I feel really everybody can win a tournament. This is how hard women's tennis is now and very happy that I managed to, for two weeks, reach the last match."
Doha crown puts icing on Basilashvili's Federer triumph
Nikoloz Basilashvili arrived in Doha without any expectation, having won just two of his previous 16 matches, but the Georgian managed to not only cut short his idol Roger Federer's return to the tour during the week but also clinched his fourth title.
Basilashvili saved a match point in the final set of his quarter-final to beat 20-times Grand Slam winner Federer, who was playing his first tournament in 14 months at the Qatar Open after double knee surgery in 2020.
The 29-year-old, who reached a career high ranking of 16th in 2019, defeated Spain's former top-10 player Roberto Bautista Agut 7-6(5), 6-2 in the final on Saturday.
"I had zero expectations, for sure, to win (the) tournament," said the current world No.42. "But at the same time, I was working a lot. I was feeling good on court."
"I was playing last half of year with a lot of stress in my body. I was not able to put 100% on court on any matches. This week I somehow found a way to deal with these stressful moments and very happy to get through."
Bautista Agut defeated two top-10 players in Dominic Thiem and Andrey Rublev in consecutive matches but could not find a way past the aggressive and big-hitting Basilashvili.
The Georgian has now won his past four ATP Tour finals.
"I am somehow managing to play good in tougher conditions and tougher matches," he told reporters. "This tournament was one of the toughest ATP 250s I have ever seen, probably."
"We had three Top 10 players. It is interesting why I am playing good in the big tournaments and big matches. (It is) surprising. At the same time, (I am) happy."
"Even though he (Federer) came back after a long time, for me to beat Roger, my idol, gave me a lot of confidence. That's why I think I played the next two matches a bit more relaxed."