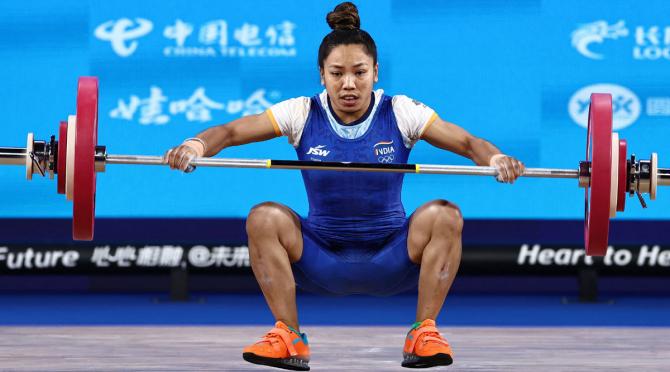 Mirabai Chanu's Asian Games campaign ended in agony as the Olympic medallist was carried off after she fell flat on her back following a failed lift, success in which would have fetched her a bronze medal in the women's 49kg event in Hangzhou on Saturday.
Chanu, who was under pressure after a disappointing snatch outing, went for a 117kg clean and jerk lift but failed to clear it twice. If she had succeeded there, the Tokyo Olympics silver medallist would have finished with a bronze.
In her final attempt she fell flat on her back and had to be carried away by the coaching staff. Chanu signed off in fourth place with a total effort of 191kg (83kg+108kg).
Chanu later revealed that she felt pain in her thigh ahead of the competition. but refused to pull out of the event.
"When I was warming up before the snatch section, I felt pain on my thigh, I think deep sheathing hit me."
"I had trained hard but I could not bring the results because of this pain. I tried my best to win a medal for the country but could not," Chanu said.
Bindyarani Devi also couldn't finish on the podium as she finished fifth in the women's 55kg event. She had a total effort of 196kg (83kg+113kg).
Vying for the only medal missing from her decorated trophy cabinet, Chanu started with a safe 83kg snatch lift, which ended up being her only legal lift in the section.
The script went awry after that as she hurried her 86kg attempt and ended up fluffing it. Chanu chose not to increase her weight despite several lifters opting to lift more than her.
But the Manipuri just couldn't rise from a squat position and fell forward while the bar fell back.
At the end of snatch, Chanu was in the sixth position with three lifters heaving 90kg or more.
Two-time world champion Jiang Huihua of China logged a best snatch of 94kg which was a whopping 11kg more than Chanu and was also a Games record.
Chanu was forced to make up for her weak snatch in the clean and jerk event.
North Korea's Ri Song-gum defended her Asian Games crown with a world record lift of 124kg in clean and jerk.
Song-gum had a total effort of 216kg (92kg+124kg) as she upstaged local favourite HuiHua 213kg (94kg+119kg) who had to settle for silver.
Thailand's Thanyathon Sukcharoe took home the bronze with 199kg (90kg+109kg).