'Carli Lloyd has what all corporate America is searching for - humility, intelligence, a sense of drama and aggression'
'She's certainly more marketable than she was even 48 hours ago'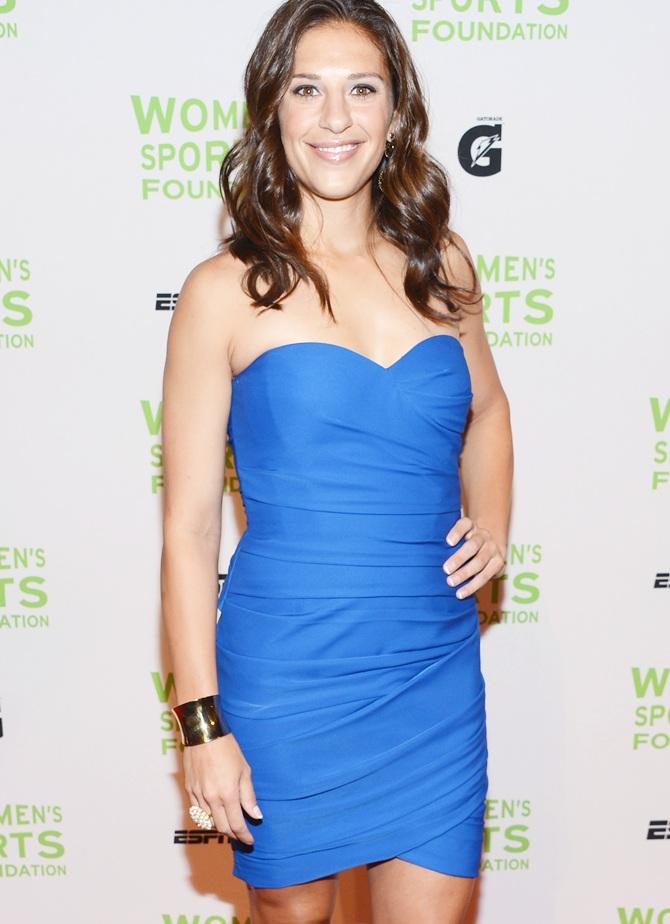 USA's soccer player Carli Lloyd. Photograph: Jason Kempin/Getty Images
Carli Lloyd has the personality and grit to become the next advertising sensation but the World Cup star should start aggressively hitting the market because of the limited interest in women's football in the United States, analysts said on Monday.
Women's World Cup: Meet the Golden Ball winner...
Lloyd had three goals in the first 16 minutes to lead the Americans to a 5-2 victory over Japan in the finals of the Women's World Cup on Sunday in Vancouver, British Columbia.
"She has what all corporate America is searching for - humility, intelligence, a sense of drama and aggression to her game," said Rick Horrow, chief executive of Horrow Sports Ventures.
"And let's not forget a record-setting hat trick in a dominant US performance as well."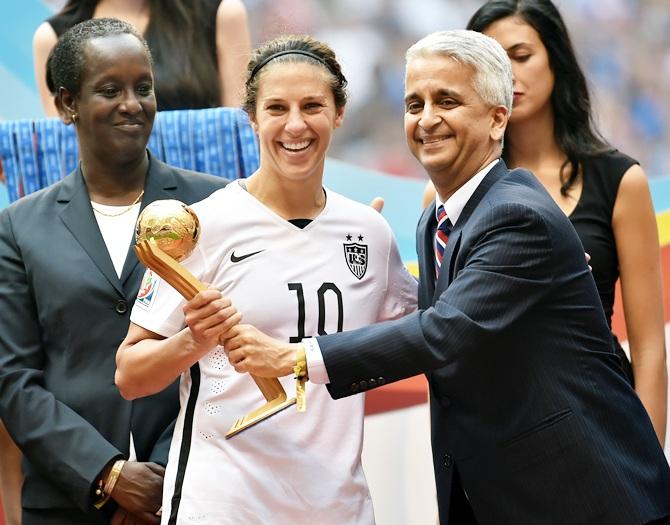 Sunil Gulati, the president of the United States Soccer Federation, poses for a picture with Carli Lloyd after winning the Golden Ball trophy. Photograph: Rich Lam/Getty Image
Lloyd, 32, is a two-time Olympic gold medal-winning midfielder who plays for the Houston Dash of the fledgling National Women's Football League. The New Jersey native scored six goals in seven World Cup games.
"She's certainly more marketable than she was even 48 hours ago," said David Carter, executive director of the USC (University of Southern California) Sports Business Institute.
"But the World Cup is one of the periodic events and it's going to be up to her representatives to figure out how to maintain that after America gets back to baseball and starts to prepare for training camps of the National Football League."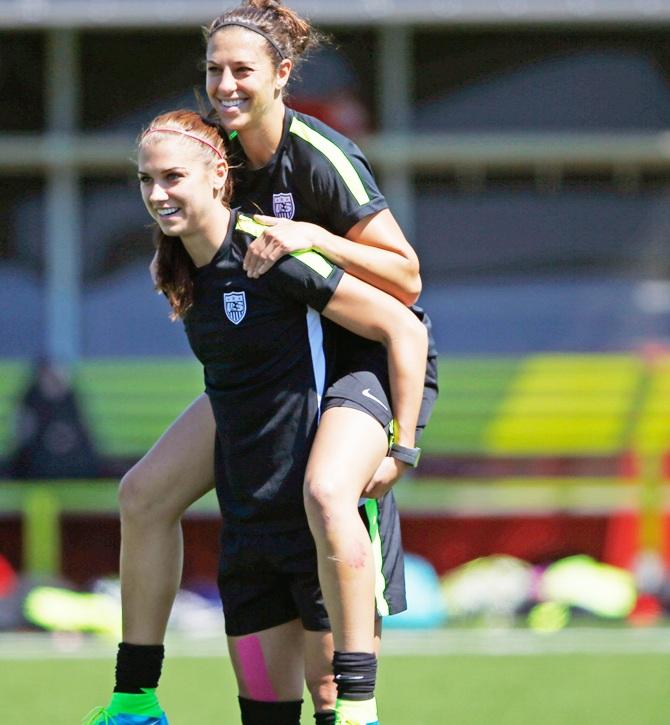 USA's forward Alex Morgan carries midfielder Carli Lloyd. Photograph: Michael Chow/Reuters
While the NWSL is struggling to find its niche in the sporting landscape, the Women's World Cup was a rating bonanza.
An estimated 20.3 million people watched the finals on Fox television in the United States, according to preliminary data from Nielsen, a record high for a football match in America. Last year's US match against Portugal in the men's World Cup drew 18.2 million viewers on ESPN and ESPN2.
AJ Maestas, president of a sports marketing research firm, Navigate, said Lloyd was 'extremely' valuable because there were not that many marketable female athletes.
"There are only a handful of Olympians that you see once every four years," he said. "There's far less competition in being a broadly visible female athlete."
Horrow said Lloyd's representatives should have been on the phone with Madison Avenue advertising agencies 'at halftime' on Sunday because football interest in the United States wanes after the World Cup.
But he added the advertising industry was looking for a women's football star to highlight following the storied career of Abby Wambach, 'and we absolutely, unequivocally found it'.