Five-time World champion M C Mary Kom will spearhead a 10-member Indian challenge in the Asian Confederation Women's Boxing Championships in Ulan Bator, Mongolia, from March 16 to 26.
The tournament is a preparatory event for women pugilists participating in the first and only Olympic qualifying tournament -- the AIBA World Championships -- to be held from May 9-20 in Qinhuangdao, China.
The Asian Championships have always been a happy hunting ground for Indian women pugilists. The sport made its continental debut with the first Asian Women's Boxing Championships in 2001.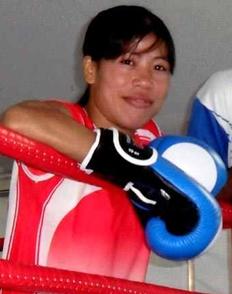 Since the inaugural edition in Bangkok, Indian women have consistently excelled at the event.
Veteran boxers L Sarita Devi and Mary Kom have accomplished a lot at this level of the game. Sarita has won a medal at all the editions of the tournament.
She won silver in Bangkok in the featherweight division and followed it up with four consecutive gold medals twice each the in bantam and flyweight division.
Reigning World champion Mary, on the other hand, missed out on a medal in 2001, but bagged three gold medals and one silver medal since.
The Asian Games bronze medallist is currently honing her skills at the Balewadi sports complex in Pune, with revered English coach Charles Atkinson.
Mary will use the competition to prepare for the World Championships and Olympics, for which she is yet to qualify.
Still new to the 51 kg weight category, the 28-year-old expects to get good exposure out of the tournament.
"The Asian Championships will be a big test for me. It will be my first major tournament in the 51 kg weight after the Asian Games in 2010," she said.
"Lot of good women boxers in world come from Asia, so this event will provide me a good opportunity to access my game before the big events -- the World Championships and the Olympics," she added.
The complete squad: Pinky Jangra (48kg), MC Mary Kom (51kg), Sonia Lather (54kg), K Mandakini Chanu (57kg), L Sarita Devi (60kg), Meena Rani (64kg), Monica Saun (69kg), Pooja Rani (75kg), Bhagyabati Kachari (81kg), Kavita Chahal (+81kg).