India have named a strong 10-member boxing team for the forthcoming South Asian Games to be held in Shillong from February 13 to 16.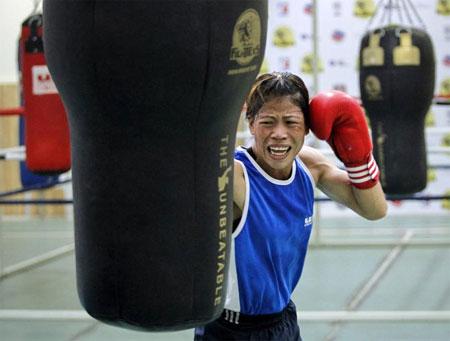 The elite women's team will be spearheaded London Olympic bronze medallist and five-time world champion MC Mary Kom in the 51kg category while L Sarita Devi (60kg) and Pooja Rani Bohra (75kg) are the other two female boxers the squad that was named on Monday, the All India Boxing Association said in a statement.
Sarjubala (51kg), Sonia Lather (60kg) and Aruna Mishra (75kg) have been named as the reserves.
The elite men's consists of L Devendro Singh (49kg), Madan Lal (51kg), Shiva Thapa (56kg), Dheeraj (60kg), Manoj Kumar (64kg), Mandeep Jangra (69kg) and Vikas Krishan (75kg).
The reserves named in the men's section are Shymakumar Kakara (49kg), Kavinder Bisht (51kg), V Durga Rao (56kg), Manish (60kg), Thomas M (64kg), Rakesh (69kg) and Sukhdeep
Singh Bhatti (75kg).
Jaydev Bisht, Dharmender S Yadav, Kuttappa, O Geeta Chanu and Sandhya Gurung have been named as the coaches.
Image: M C Mary Kom during a training session at the Balewadi Stadium in Pune
Photograph: Danish Siddiqui/Reuters