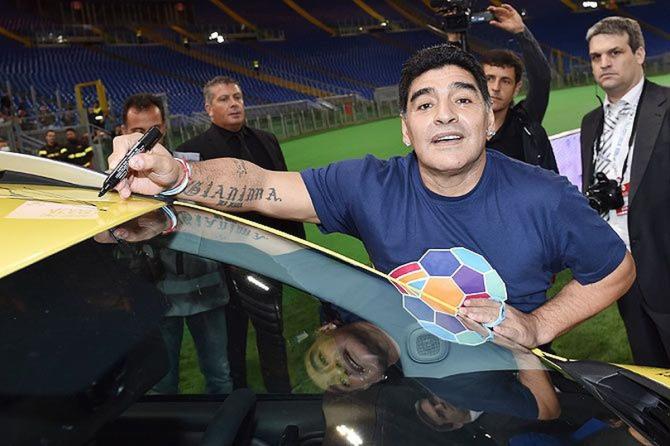 Argentine soccer star Diego Maradona did not consume alcohol or illicit narcotics in the days before his death, an autopsy released on Wednesday said.
Maradona, who died in November aged 60, had taken seven different medicines to treat depression, anxiety and other ailments but "there was no presence of (illegal) drugs," a judicial official told Reuters.
The autopsy, which was based on blood and urine samples and released by the Buenos Aires Scientific Police, said Maradona had problems with his kidneys, heart and lungs.
Investigators are looking into various facets of his death that rocked Argentina and the wider footballing world and have not ruled out wrongful death.
The more detailed autopsy confirmed the results of one carried out immediately after his death that said the former Boca Juniors and Napoli player died from "acute pulmonary edema secondary to exacerbated chronic heart failure with dilated cardiomyopathy."
In an angry broadside at her father's critics, Maradona's daughter Gianinna said the autopsy showed "a result compatible with cirrhosis of the liver."
The charismatic 1986 World Cup winner, who was regarded as one of the greatest soccer players of all time, had battled alcohol and drug addiction for much of his life.
A judge last week ruled that Maradona's body cannot be exhumed or cremated in case DNA is needed at a later date for use in paternity or other cases.
Maradona has five recognised children and six with filiation requests. They are part of a complex inheritance process under way in Argentina.
Atletico's Trippier gets 10-week ban
Atletico Madrid and England defender Kieran Trippier has been suspended for 10 weeks and fined 70,000 pounds ($94,052.00) following a breach of betting rules, the Football Association said on Wednesday.
Trippier, 30, denied seven alleged breaches of FA Rule E8, which were said to occur in July 2019, and requested a personal hearing.
Dresden fans buy 72,000 tickets for match in empty stadium
German third tier side Dynamo Dresden said they sold more than 72,000 'ghost' tickets for the cup match at home to Darmstadt on Tuesday, even though the match was played in an empty stadium.
With fans barred from attending due to the COVID-19 pandemic, Dresden decided to put tickets on sale at five euros ($6.08) each and appealed to fans to buy them out of solidarity.
Even the former East German champions were surprised when 72,112 'ghosts' bought tickets, nearly three times their average attendance last season and over twice their stadium's capacity.
Dresden said on its website that it would have been the third-biggest crowd ever to watch one of their games.
Lower tier sides in Germany have been especially hard hit by having to play matches without fans -- known in Germany as 'ghosts matches' -- during the COVID-19 pandemic as they depend more heavily on gate receipts than Bundesliga teams.
"Every Dynamo can be proud of this. That is certainly unique in Germany," said Dresden striker Philipp Hosiner.
It did not all go to plan for Dresden, however, as their second division opponents cantered to a 3-0 win while a planned choreography involving 30,000 biodegradable balloons had to be cancelled due to high winds.
Qatar to host FIFA Club World Cup 2020 across three venues
Qatar will host the FIFA Club World Cup 2020 from February 1 to 11, 2021, after it was postponed earlier this year due to the COVID-19 pandemic.
Six continental confederations, as well as the host nation's league champions, will compete in the tournament, which will be held across three FIFA World Cup Qatar 2022 stadiums -- Ahmad Bin Ali, Khalifa International and Education City.
The Ahmad Bin Ali Stadium, inaugurated just last week on December 18, will stage the opening match between Qatari champions Al Duhail and Auckland City of New Zealand on February 1, and the final will be played at Education City Stadium on February 11.
Joining the two teams will be European champions and German side FC Bayern Munich, CONCACAF champions Tigres UANL from Mexico, Al Ahly SC, Egyptian side and winners of the CAF Champions League along with Ulsan Hyundai, who recently laid claim to the AFC Champions League at a match played in FIFA World Cup Qatar 2022 venue Al Janoub Stadium.
The winner of the CONMEBOL Libertadores will determine the South American representative, rounding off this edition's participants. The South American title winner will be determined by the end of January 2021. The draw to finalise the detailed pairings in the tournament will take place in Zurich on January 19.
Inaugurated exactly two years before Qatar hosts the FIFA World Cup final, Ahmad Bin Ali Stadium has a capacity of 40,000 seats and is a demonstration of Qatar's commitment to sustainability, having been largely constructed from recycled and reused material from an older stadium that once stood on the same site.
Education City Stadium, nicknamed the 'Diamond in the Desert', has its design inspired by the rich history of Islamic architecture, blended with striking modernity. The facade features triangles that form complex, diamondlike geometrical patterns which appear to change colour depending on the sun's position.
The third stadium to be used during the FIFA Club World Cup Qatar 2020 will be Khalifa International Stadium. Widely regarded as Qatar's national stadium, the recently refurbished venue hosted the previous tournament's final where English side Liverpool FC won the title for the first time in front of an audience of more than 45,000 fans.
A-League season-opener delayed after COVID-19 outbreak
Sunday's A-League game between Western Sydney Wanderers and Macarthur FC, which would have been the season-opener, was pushed back three days due to COVID-19 restrictions in Sydney over Christmas, Football Australia (FA) said on Wednesday.
The A-League season will now begin with a game between Western United and Adelaide United at GMHBA Stadium on December 28. The Wanderers will face Macarthur on Dec. 30 at Bankwest Stadium.
An outbreak of the novel coronavirus, centred on Sydney's northern beaches, has grown to 97 cases and parts of the city remain under lockdown. New South Wales on Wednesday, though, relaxed coronavirus restrictions for Christmas.
"We have worked closely with the NSW Government to ensure that the A-League ... will go ahead as planned with the best possible experience for fans and players within the current restrictions," FA's Head of Leagues, Greg O'Rourke said in a statement.
The capacity for all games in NSW will be reduced by 50% until the end of December.
FA on Tuesday reshuffled the early rounds of the A-League season to ensure NSW-based teams play each other. Those based outside of NSW can compete with each other without border restrictions.
Fulham's Andersen has red card rescinded
Fulham defender Joachim Andersen will be available for Saturday's Premier League clash against Southampton after his red card in last week's 1-1 draw with Newcastle United was overturned by England's Football Association (FA).
The 24-year-old Dane was sent off after he was adjudged to have fouled Newcastle striker Callum Wilson in the penalty area.
Replays showed that initial contact was outside the box, but referee Graham Scott stuck to his original decision after consulting the pitchside monitor. He sent Anderson off, and Wilson converted the spot kick.
"An independent Regulatory Commission has removed Joachim Andersen's one-match suspension following a successful claim of wrongful dismissal," the FA said in a statement.
Fulham are third bottom in the standings with 10 points from 14 games, two adrift of the safety zone.