Manchester City boss Roberto Mancini has said that the club can lift the Premier League next season with or without skipper Carlos Tevez.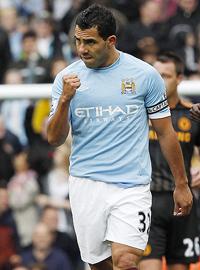 Mancini still refuses to accept defeat in his battle to keep his captain, but he knows that with further investment the club can still progress even if the striker leaves.
"We can sell Carlos and win the title. It can happen. I would like to buy other players and keep Carlos. I said this week I think he will stay and I have not changed my opinion," The Sun quoted Mancini, as saying.
The Argentinian has been one of the leading strikers of the Premier League, hitting 23 goals so far this season.
But he has clearly mentioned his wish to quit Eastlands.
Tevez said: "I want to leave Manchester City. I've been treated very well here and I'm grateful. I also gave everything for the club to achieve the results it has had. But I need a change of scene."
Mancini has dismissed claims from City's football administrator Brian Marwood that his squad needs only some 'tinkering' to be successful next season.
Mancini has already spent 150 million pounds on his squad but wants four more quality players bought in the next two months.