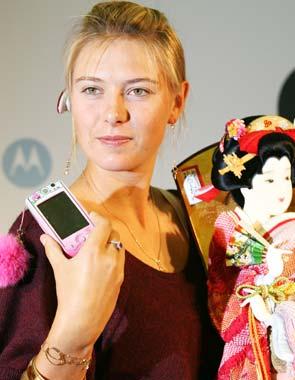 Russian tennis player Maria Sharapova poses for photographers holding Motorola's Pink M1000, which was made specifically for her, at a media conference on in Tokyo on Thursday.
The conference was held to announce Maria Sharapova's and Lindsay Davenport's participation at the Pan Pacific Open tennis tournament taking place early next year in Tokyo.
Sharapova is in Japan for a three-city promotional blitz that will include singles matches against Japan's top-ranked player, Ai Sugiyama, Asahi Shimbun wrote Monday.
The Maria Sharapova Japan Tour 2005 is the first leg of a planned world tour scheduled to stop in Russia, Hong Kong and Singapore in the following months.
The 18-year-old Russian will be showcasing her own brand of perfume and her own line of watches in addition to taking part in fashion shows, tennis clinics for children. An event organised for Japanese fans on Wednesday, attracted an audience of about 7,200.
In a fashion show held at Osaka-jo Hall as part of her Japan Tour, 18-year-old Sharapova demonstrated her costumes and a bag she designed. She also showed a powerful serve in an exhibition "match" against Hanshin Tigers catcher Akihiro Yano.
Sharapova topped the list of Russia's wealthiest athletes published by the Finance magazine earlier this month. Sharapova's income in 2005 was estimated at $14.5 million.
Photograph: Koichi Kamoshida/Getty Images