India's Sudha Singh crashed out of the London Olympics after failing to qualify for the final of the women's 3000m steeplechase.
She finished a lowly 13th among 15 runners in the first heat on Saturday.
- London Olympics 2012 - Complete coverage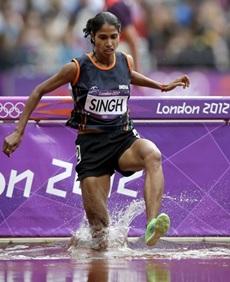 Sudha, a gold medal winner at?the 2010 Guangzhou Asian Games, clocked 9:48.86s, way below her personal best?of 9:47.70s, set in the Iberoamericano International athletic meet at Huelva, Spain, in June this year.
Sudha also booked her ticket to London at the Huelva meet after attaining the Olympic 'B' qualification standard of 9:48.00s.
The top four runners from the first heat qualified for Monday's final, with Gesa Felicitas Krause of Germany winning the race in?a personal best timing of 9:24.91s.
The other three runners to qualify from the first heat were Eithopia's Etenesh Diro (9:25.31s), Milcah Chemos Cheywa of Kenya (9:27.09s) and Latvia's Polina Jelizarova (9:27.21s).
Photograph: Matt Slocum/AP