One of India's brightest medal prospects at the Olympics, in-form badminton star Saina Nehwal will start her campaign on Sunday when she takes on unheralded Swiss Sabrina Jaquet in her opening group match at the Wembley Arena in London.
Fourth-seeded Saina is placed in Group E along with Sabrina and Lianne Tan of Belgium.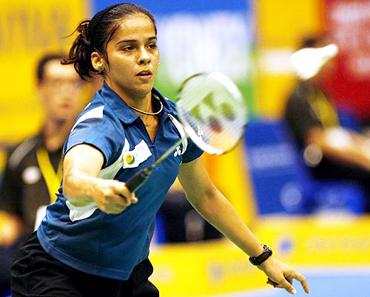 Besides three Chinese players and Denmark's Tine Baun and Germany's Juliane Schenk, the 22-year-old Indian is one of the favourites to clinch gold.
Saina had reached the quarter-finals at the 2008 Beijing Olympics.
The Hyderabadi, who clinched two successive titles at the Thailand Grand Prix Gold and Indonesia Superseries last month, is likely to play 14th seed Yao Jie of The Netherlands (Group F) if she reaches the pre-quarterfinals.
The World No 5 is expected to face a tough time in the later stages of the competition as she is likely to face fifth seed Baun (Group G), or 12th-seeded Japanese Sayaka Sato (Group H) in the quarter-finals.
"That's (winning a medal) a dream for every Indian and me. But I don't want to put too much pressure on myself," the 22-year-old has stated.
She has also stressed that she is expecting some good matches.
"The draw looks quite tough. I've played them before and they've given me challenges. I'm expecting good matches. But I'm just going to take it one match at a time," she has said.
"I have developed as a player. This is my second Olympics and I want to be more relaxed and not take on too much pressure," added Saina, who made her Olympic debut as an 18-year-old at the Beijing Games in 2008.