Desperation to prove himself in front of his fans drove Lin Dan to his Olympic badminton gold medal at Beijing, but in London the Chinese just hopes to act as a statesman for the game he loves.
After being rested for the first two days of competition, the four-times world champion finally made an appearance at Wembley Arena, albeit a brief one as he despatched Ireland's Scott Evans with a clinical 21-8, 21-14 victory.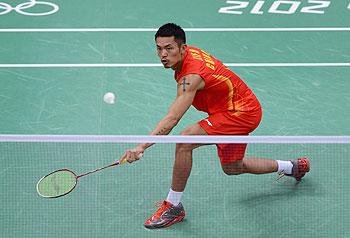 The result put World No 1 Lin, one of China's most popular and marketable athletes, into the round of 16 for a likely encounter with arch-rival Taufik Hidayat of Indonesia.
Lin has the opportunity to cement his claim as the greatest badminton player of all time with a successful title defence in London, unprecedented in the Olympic men's singles, but the idea is far from the player's mind.
"I think the difference between here and '08 is that I'm bringing a different mindset," the spiky-haired 28-year-old said on Monday.
"Here I'm just trying to bring the best out of myself as a professional sportsman. I'm not really thinking about results or whether I can get the gold medal.
"I'm hoping, like all the competitors here, that we can make more people like this sport.
"Of course, in China there's already plenty of people who like badminton. I'm hoping more foreigners, Americans and other countries can get into this sport.
"I'm hoping this sport can be as popular as tennis in Europe, and be acknowledged and liked by Europeans in the same way."
Sadly, the one-sided encounter against Evans is unlikely to live on in the memories of spectators in the three-quarters full stands at Wembley Arena, but many fans will have left the afternoon session thinking the gold medal is already in the bag.
Lin's hopes to turn the game into tennis were partly fulfilled, at least, as he prowled Roger Federer-like around the court, mixing crisply struck smashes and sweetly-timed drop-shots to leave the unfancied Irishman chasing shadows.
Dubbed "Super Dan" by an adoring public, Lin is playing his third Olympics and despite having won virtually every title in every part of the world, he confessed to suffering a bout of nerves before the match.
Top seed at his first Games at Athens, he was bundled out of the first round by Singapore's Indonesia-born Ronald Susilo.
Fortunately, Evans was also feeling the heat at Wembley Arena.
"I thought I played pretty tenacious and was on my game today," Lin said.
"And I think my opponent, because it's the Olympic Games and he was desperate to play really well, was a bit more nervous than me. That's part of the Olympics.
"Because it was my first hit and I was yet to get into the groove, we had some pretty tough rallies.
"You know, it's the Olympics and even though it's just the first round you can still lose, so I was hoping I could play well.
"I do (get nervous). I guess that's mainly to do with the fact that so many people have sacrificed so much for me. So I'm really hoping that I can pay them back."
Lin has brought a small entourage of relatives with him from Beijing, including his wife Xie Xingfang, herself a retired badminton singles world champion.
They may also be nervous watching Lin take on 30-year-old Hidayat, perhaps the only player that ever got under the Chinese's skin.
Hidayat, the 2004 Olympic champion, beat Lin for the 2005 world title and the pair were involved in a series of spats on and off the court between the Athens and Beijing Games.
"I think his game is very complete, so I'm going to have play my best," Lin said.
"He's one of my most respected opponents and he's won world and Asian titles.
"So I'm feeling both happy and nervous to play him because in the end no-one really knows who's going to come out on top."
Lin stopped short of saying whether London would be his last Games, but remains mindful of looking too far ahead, given China's vast strength in depth.
"After this Games, no-one really knows whether they can play another, so I really hope to cherish this chance."
Photograph: Michael Regan / Getty Images