Star Indian woman boxer M C Mary Kom made a resounding start to her title defence and the quest for an Olympic berth by advancing to the pre-quarterfinals of the seventh World Women's Championships in Qinhuangdao, China on Sunday.
The 29-year-old seventh seed, who has won the world title for an unprecedented five times, out-punched Japan's Ayako Minnowa 20-9 in her lopsided opener of the flyweight 51kg division after getting a first-round bye.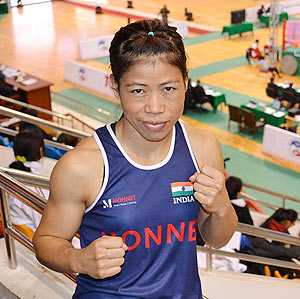 "It was such a confusing bout, I don't know how to describe it. My opponent was very strong but she had no skill or technique, she only had strength. She fought like a bull, only hitting my belly," Mary Kom said.
"I mostly used my left hook in today's bout. She was just so confused about what to do. Had I resorted to her tactics it would have become a street fight.
"I kept control over my temper. I told myself that I cannot attack like her so it was better to counter. It was very draining," added the reigning Asian champion who was facing the Japanese for the first time in her career.
Mary Kom will now square off against Marielle Hansen of Norway on Tuesday in the last-16 stage.
Hansen defeated Zaida Enriquez Cedillo of Mexico 21-7 in her opening bout.
"I am going to fight her for the first time. Let's see how it goes," she said.
Beginning the proceedings for India on Sunday, it was a perfect start to the diminutive Manipuri's quest for a London ticket where women's boxing will make its Olympic debut in three weight categories -- 51kg, 60kg and 75kg.
Asia has just two slots to grab in the 51kg division but former World No. 1 Mary Kom is being touted as a safe bet to hand India one of the available berths for the region.
And her opening effort at the event, which she has dominated for long, was a thumping one as she took the first round 4-1.
At the end of the second round, the Indian doubled her lead and consolidated her position further by notching up 7 points against her rival's 3 in the third.
Minnowa tried hard in the final two minutes but Mary Kom had established a big enough lead to clinch the bout comprehensively.
Meanwhile, fighting in the non-Olympic 54kg division, Sonia Lather lost to German Elena Walendzik 9-18 in the opening round itself.
The Indian trailed 3-5 in the opening round and the gap kept widening as the bout progressed to bow out of the mega-event.