Ashton Eaton is more concerned with getting a medal than breaking his world mark.
The American is ahead of the pack after the opening three events of the Olympic decathlon Wednesday, amassing an 105-point lead over World champion Trey Hardee.
Eaton has the spotlight on him after eclipsing the world record at the US trials in June, when he finished with 9,039 points. His mark surpassed Roman Sebrle's 11-year-old record by 13 points.
As for any thoughts of another world record, well, Eaton's not all that far off the pace after starting off the competition with an Olympic-best performance in the 100 meters.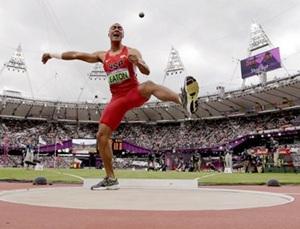 The 24-year-old finished the event in 10.35 seconds, beating the time of 10.41 that American Bill Toomey turned in 44 years ago. It was 0.14 seconds slower than Eaton's time at trials.
At this point of the trials, Eaton had 2,905 points, just 57 points off his current pace. He had the top performance in the long jump and was 11th in the shot put. There are two more events — high jump and 400 meters — to round out the first day of the decathlon.
"I feel good. My body feels good," Eaton said. "Nothing special, but they were all solid, which is what it takes to be good in the decathlon."
Sebrle dropped out after the 100 because of a right heel injury. The 37-year-old from the Czech Republic said this would be his last Olympics.
"My imagination of saying goodbye to the Olympics was another way," said Sebrle, who captured gold eight years ago in Athens. "But I'm satisfied."
And satisfied that he's leaving the sport in the capable hands of competitors such as Eaton. Sebrle was impressed with the performance of Eaton at the trials, when much of the competition was held in a rain storm.
"He's amazing," Sebrle said. "It's unbelievable. I think he will make more points than 9,039. But not today. Not at the Olympics."
Eaton conceded as much in the build up to London. He wasn't interested in breaking his mark anyway, just earning a spot on the podium.
However, the Olympic mark is definitely within reach. Sebrle owns that record after finishing with 8,893 points in Athens.
Eaton's toughest competition may be from Hardee, who's coming off reconstructive surgery last September to repair a ligament he blew out while throwing the javelin at the World Championships last summer. The injury occurred on his final throw, a personal best that locked up his second straight world decathlon title.
The Americans are looking for their first 1-2 finish in the decathlon since Milton Gray Campbell and Rafer Johnson in 1956.
"It doesn't mean anything now, just like it doesn't mean anything after the first event," said Hardee. "It's all about leading into that 10th event and what it looks like when you cross the line. We're not trying to get ahead of ourselves."
The U.S. squad may have had another decathlete in the mix as well, but reigning Olympic champion Bryan Clay failed to make the squad at trials. Still, it's a golden time for the Americans in the decathlon.
Now if only more people would pay attention.
"I don't think fans understand how it works. But I think they're learning because an entire stadium — well, not an entire but pretty close to — is staying for a decathlon shot put, which isn't too exciting," Eaton said. "I think they're learning.
Photograph: David J. Phillip/AP