Three-time Olympic champion Australia had to beat world champions Argentina on Monday to reach the Olympic women's field hockey semi-finals. It never got close.
Argentina relentlessly pressed forward and barely gave Australia a chance in a 0-0 draw at the Riverbank Arena.
- London Olympics 2012 - Complete coverage
The other former Olympic champion in Pool B, Germany, was also knocked out of the running in a 0-0 draw with New Zealand.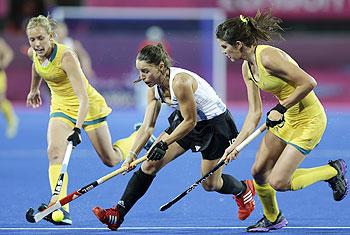 New Zealand's reward for making it to the semi-finals for the first time was a clash with unbeaten defending champion the Netherlands on Wednesday.
The Dutch were the only team to finish with a perfect five wins from five after coming from a goal down to edge Britain 2-1 to top Pool A.
Britain, whose captain Kate Walsh was playing with a broken jaw, meets Argentina in the other semi-final.
Argentina danced and sang on the blue turf to celebrate with their fans, whose unbridled joy made the main Riverbank Arena grandstand shake.
"We were very passionate about this game," Argentina captain Luciana Aymar said.
The Australians had slightly the better of an tame first half during a shower, but their tournament-best defense was put under pressure in the second half. Argentina forced the only three penalty corners, and Australia substituted its goalkeeper with five minutes to go as it went after the winning goal it desperately needed, but time ran out.
"We're shattered," captain Madonna Blyth said.
"We thought that if we played our best hockey and got nine or 10 points we'd be through. We got 10 points but in the end, like in Beijing, it came down to goal difference."
They now face China in the playoffs, and can finish no better than fifth for a third straight games.
Earlier, the Dutch came into a packed, partisan arena, but they quickly silenced the crowd as they fired at the British goal from all angles, but couldn't find a deflection to get the ball in the net.
Britain weathered the storm and scored first when Crista Cullen's fourth penalty corner goal of the tournament flew under goalkeeper Joyce Sombroek's right leg in the 28th minute. The equalizer came eight minutes after halftime, when the Dutch tricked the British to the right side from a penalty corner and Maartje Paumen fired to Naomi van As to deflect in at the left post.
Kitty van Male scored the winner, standing at the far post to knock in Kelly Jonker's shot threaded between two defenders.
"We have played five games and got five wins so we're very happy," Paumen said. "We're all really looking forward now to the semifinals and I'm very proud."
Britain knew it had advanced to the semifinals earlier, when China was upset by Japan 1-0. China, the Beijing Games finalist, was ruing the missed opportunity. It beat Britain on Saturday and if it had beaten Japan, it would have advanced at Britain's expense.
"We're lucky that we'd done all the hard work of getting into the semi-finals early," Cullen said.
Like China, Germany was also left frustrated. Germany, the 2004 champion, had to defeat New Zealand by three goals to have a chance of advancing, and had two goals disallowed on video review. Coach Michael Behrmann couldn't believe it.
"It's hard to understand that we have eight cameras in HD and in the end there is no advice possible. For me, it's ridiculous," Behrmann said.
New Zealand had not so much as drawn with Germany in eight years, and only three weeks ago was hammered 5-1 in a friendly. But the Black Sticks, who have finished last at three Olympics, have peaked at the right time.
"I was more anxious than the girls (before the Olympics)," New Zealand coach Mark Hager said.
"But I was listening to a couple of them talking to other people and they were saying, 'Tell them to settle, we're OK, we know where we're at, we'll be right, we'll switch on when we're ready.' And true to their word they have."
For Germany, which hasn't had a major tournament medal since 2008, it was more bitter disappointment.
"We are our biggest opponents, maybe it is mental," said Julia Mueller, who was sin-binned.
"We have to grow up."
China could find no clue to unlocking Japan goalkeeper Sakiyo Asano, then played second fiddle to Japan after the break. Rika Komazawa was credited with the only goal in a scramble after a penalty corner in the 53rd minute.
South Africa beat the United States by a stunning 7-0 for its first win, and consigned the Americans to the 11th-12th playoff against Olympic first-timer Belgium.
South Africa earned the playoff for 9th-10th with Japan, while South Korea will face Germany for 7th-8th after keeping Belgium winless, 3-1.
Photograph: AP Photo/Lefteris Pitarakis