David John had a rather unenviable task when he took over as physio of the Indian hockey team, a sweet-toothed squad with a number of lightweight vegetarians.
So the Australian, rather shrewdly, dropped the idea of a six-pack abs contest and was seen nodding approvingly as the Olympic-bound team, looking sharp and lean, posed for a group photo at a send-off ceremony in Delhi on Sunday.
"There is now a strong competition in the team to have the best physique so that going to the beach of France, they can show off their abs," John said, with a mischievous smile on his face.
Captain Bharat Chetri said they would pose in England as well, provided the team succeed in their pursuit of winning India's first hockey medal in 32 years.
"Oh yes. There indeed is a competition within the team to build the best physique. If we manage to win a medal in London, we'd celebrate by flashing 16 six-pack abs," the goalkeeper said before leaving for Europe where the team will play practice matches in France and Spain.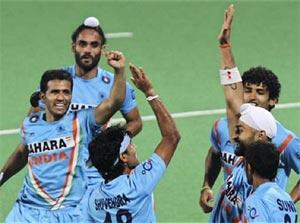 "Honestly, David has made a real difference and took us to the top fitness level in the last 12 months," Chetri said.
John, who has worked with rugby players and cricketers in Australia and India, said the job is not easy.
"Diet was a problem with most of the players. We got seven vegetarians in the team and they were not eating enough protein to put on muscles and recover from training sessions quickly enough.
"It often lead to injuries but that has been addressed. We used a lot of whey protein which is a vegetarian substitute and protein shakes, four-five times a day.
"The players are now stronger and more resilient to injuries. This group of players are, I think, the fittest hockey players in the world."
To achieve that, John had to set some strict diet codes which he occasionally would relax.
"Everything in moderation. I told them 'I'm not saying you can't have it, but in moderation and ensure you are eating the better things more often'.
"The goalkeepers found it hardest because I have limited their carbohydrates. Certainly after the competition we ask them to have some of those nicer things.
"It's not about butter chicken but desserts. They were used to having those desserts but now realise it's not good for them."
Asked if he thought anyone still occasionally sneaked a chocolate bar or something, John quipped: "Only the coach (Michael Nobbs)".
John conceded the current crop of Indian players are lighter than their European counterparts and said this is an issue that could not be solved overnight.
"You address those problems over four years, maybe by Brazil (2016 Olympics). That's not something you can do in 12 months. Not in an Olympic year calendar when there is very little opportunity to have a sustained training period.
"We had a six-week period post-qualifying tournament and the players improved their strength, all of them, by 100 percent. You need many more periods like this," he said.