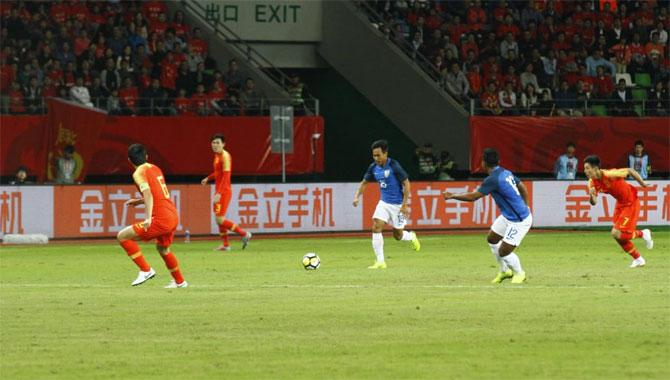 China's struggles in the build-up to January's Asian Cup finals continued on Saturday when Italian coach Marcello Lippi's side were held to a 0-0 home draw by India in a friendly in Suzhou, Hong Kong.
China continued their recent struggle as they failed to score in three matches on the trot.
China had lost to an inexperienced Qatar team 0-1 last month before playing out a 0-0 draw against Bahrain. They have not scored since beating Thailand 2-0 in June.
It was the first meeting between the countries in more than two decades and has been dubbed 'The Earth Derby' as it features nations that are home to a third of the world's population.
However, for the third match in a row Lippi's team failed to break down their opponents, with India holding on for a draw thanks to their Bengaluru goalkeeper Gurpreet Singh.
The two teams are preparing for the finals of next year's continental championships in the United Arab Emirates.
Stephen Constantine's India face hosts the UAE, Thailand and Bahrain in the Asian Cup, which kicks off on January 5, while China meet South Korea, the Philippines and Kyrgyzstan in the group phase as they aim to win the title for the first time.
In a keenly-watched match played between the two most populous countries in the world but still laggards in the global game, China clearly dominated the proceedings with several chances coming their way but failed to score.
Chinese forwards' goal drought continued while the Indians, especially the back-four of captain Sandesh Jhingan, Narayan Das, Pritam Kotal and Subhasish Bose, played their hearts out to hold their nerves till the end.
The home side had at least three clear chances with two being denied by the woodwork while their star striker Gao Lin failed to find the target several times. Custodian Gurpreet Singh Sandhu stood like a rock in front of the Indian goal as he denied the home side at least on four occasions.
It was a remarkable achievement for India as they have drawn against a continental top side like China in their own den. India were playing on the Chinese soil for the first time and there were periods in the match, though few and far between, when the visitors threatened on the counters.
India had two very good chances on either side of the breather, one from Pritam Kotal and another from substitute Farukh Choudhary, and a couple of half chances.
The draw is also expected to take India higher in the FIFA rankings. They are now placed 97th while China are at 76th spot.
Before Saturday, India and China had played 17 times with the last one being in 1997 in Kochi. China had won 12 times while the remaining five were drawn matches.