Three Lebanese football officials have been charged with receiving sexual bribes to fix an AFC Cup match in Singapore, a government law-enforcement agency of the island city-state said on Thursday.
Referee Ali Sabbagh and assistant referees Ali Eid and Abdallah Taleb were hastily replaced by officials from Thailand and Malaysia for Tampines Rovers' 4-2 defeat by East Bengal of India on Wednesday.
The Lebanese trio were taken to the Corrupt Practices Investigation Bureau (CPIB) instead and appeared in a Singapore court on Thursday.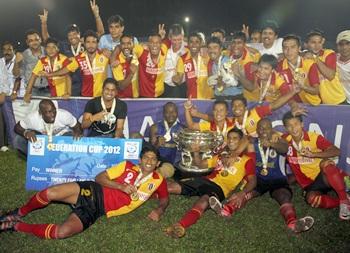 "Ali Sabbagh, Ali Eid and Abdallah Taleb were produced in court, each with a charge of one count of corruptly receiving gratification, in the form of free sexual service," the CPIB said in a statement.
"Singapore has always adopted a zero tolerance approach towards corruption and matchfixing of any form is not condoned in Singapore," the statement read.
"The Bureau works closely with the Football Association of Singapore (FAS) and the authorities to keep the local football scene clean," it added.
In February, European anti-crime agency Europol said hundreds of football matches had been fixed in a global betting scam run from Singapore and identified some 680 suspicious matches, including qualifying games for the World Cup and European Championship.
Later that month, the Lebanese Football Association punished 24 players for their involvement in rigging international and regional matches.
Andrew Barisic struck twice to help East Bengal climb to the top of Group H, with seven points in three matches.
East Bengal too a surprise lead after a 19th-minute own goal by Anaz Hadee. However, Rovers responded through their Serbian recruit Sead Hadzibulic in the 28th minute as both the teams went into the breather 1-1.
Barisic then scored in the 62nd minute to East Bengal a 2-1 lead before Edeh Chidi added to the tally two minutes later.

Rovers pulled a goal back in the next minute when Khairul Amri found the target.
Barisic got his second goal in the 87th minute to put the issue beyond doubt.
Image: The East Bengal team after winning the Federation Cup last September