'Now an Indian holding the record is very special for our sport especially. I believe this record will stay very long'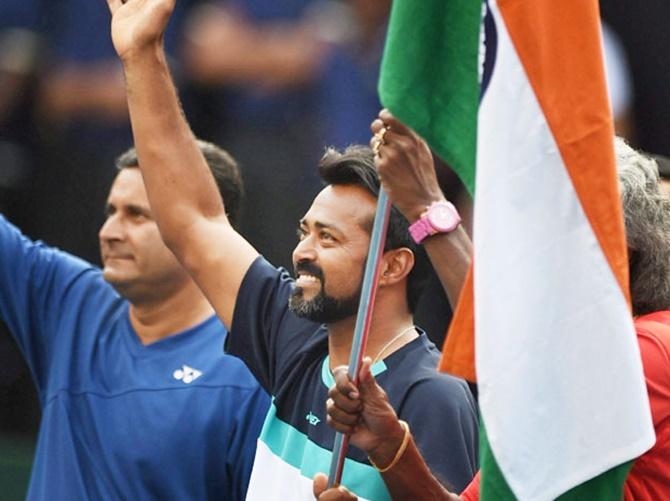 What Leander Paes has achieved by creating a Davis Cup world record on a 'phenomenal' day for Indian tennis is unlikely to be matched by anyone even in distant future, feels captain Mahesh Bhupathi and India's tennis fraternity endorsed the view.
Paes, approaching 45, surpassed Italy's Nicola Pietrangeli to take that record 43rd win, which made him the most successful doubles player in the history of Davis Cup.
"I am very excited that it has finally happened. It was always inevitable. Now an Indian holding the record is very special for our sport especially. I believe this record will stay very long," non-playing captain Bhupathi said.
Bhupathi's predecessor Anand Amritraj also hailed Paes for his longevity.
"Great achievement by Leander to get the record of 43 doubles wins in Davis Cup. He deserves it, and it will probably never be surpassed. I'm glad our paths crossed more than 30 years ago and I was able to pick him for our BAT Academy. He has done our country proud and today was the crowning moment," Amritraj said.
Amritraj also praised the young members of the team for pulling off an incredible 3-2 win after going down 2-3.
"It's a wonderful effort by our doubles team, Ramkumar and Prajnesh to pull this tie out after a poor start yesterday. Congrats to them," he said.
India's coach and Paes' first partner in Davis Cup Zeeshan Ali said it was a proud moment for him.
"Leander today showed why he is the most successful doubles players. I won't say they played the greatest match but they played well when it mattered. I am extremely proud and happy to be a part of Leander's journey. Being a part of history of Leander is amazing," said Zeeshan after India wrapped up the tie.
"Apart from playing tennis, we have grown up together. There is a lot outside tennis. To see his achievement as an Indian, is very very proud moment," said Zeeshan, who like Leander took his first lessons at the famed South Club in Kolkata.
"The first match me and Leander played (in Jaipur in 1990) is something very special. We won other matches also but that particular doubles match (they won by winning fifth set 18-16 against Japan) really firmed our friendship."
Balram Singh, who travelled with Paes to Youth Cup in 1990 as India's coach, said the youngsters need to learn from Paes.
"Despite his age, he is moving so well. Today's youngsters do not move. They should learn from Leander. He will always be remembered for his immense contribution to Indian tennis. He was always hard working. He lives on tennis. He should continue playing as long as he is fit. Age is no bar," said Balram, the former Davis Cup coach.
AITA Selection Committee Chauirman S P Misra said no one should ask Paes to retire despite getting this record.
"Why he should not play. It is individual choice. As long as he is in contention and ranking is there, he can make himself available. Today it was his win which inspired the youngsters to win. He and Rohan played a huge role," said Misra.
Zeeshan said winning the tie after a depressing 0-2 scoreline on day one was a very creditable performance by the Indian team.
"It's unbelievable. I am so proud of them. We knew we can it pull off. The tone was set by the doubles win. The adrenaline flowing got everyone pumped up. It's a huge win I don't have words to express. Down 0-2, it's absolutely phenomenal performance. We discussed if it went down to fifth, Prajnesh will be played.
"The conditions did not suit Sumit. Courts were slow, when it's so cold, the heavy ball does not travel fast. If you don't have power to overpower opponent, you cant win, so decision was to play the player could excel in these conditions.
"New rule of having five players benefitted us. We were able to play around three singles players."
Meanwhile AITA issued a press release acknowledging Paes' achievement.