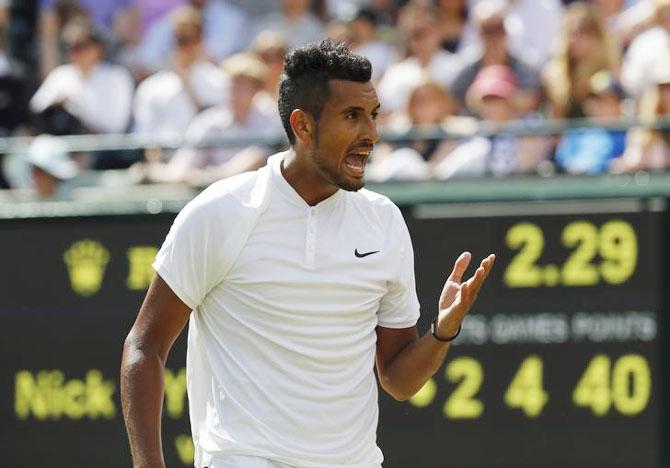 IMAGE: Australia's Nick Kyrgios reacts during his match against Spain's Feliciano Lopez. Photograph: Stefan Wermuth/Reuters
Nick Kyrgios has the weapons to beat Andy Murray in their Wimbledon fourth-round clash on Monday but must play the match on his own terms, according to former champion Lleyton Hewitt.
- Wimbledon PIX: Serena races past Beck; Tsonga survives, Del Potro out
- Indians at Wimbledon: Sania-Martina ease into third round; Paes out
Fiery Australian 15th seed Kyrgios has been in sparkling form so far, largely letting his racket do the talking, and his match-up against second seed Murray is the pick of the last 16.
The 21-year-old has fired down 79 aces and wins the majority of points inside four shots.
Keen boxing fan Murray leads the statistics on return of serve, landing 84 percent of them back in court, enjoying soaking up blows before launching devastating counter-attacks.
No surprise then that Hewitt, speaking to a small group of reporters, said of his compatriot: "Nick will have to use all his weapons and firepower. Andy will try to turn it into a physical battle.
"Nick plays pretty short points and it's hard to turn points into a physical battle against him.
"Andy backs himself against anyone when it gets physical, especially over five sets and I'm sure that's what he's going to try and do again.
"It's how many balls Andy keeps getting back. Can he keep making Nick play the extra ball? But Nick on his day can hit anyone off the court."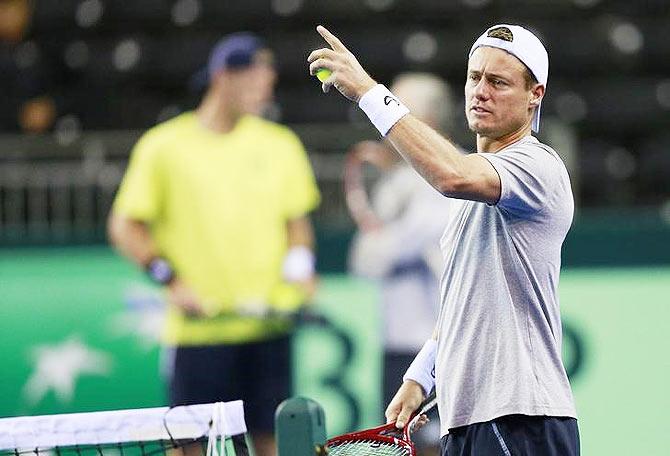 IMAGE: Australia's Lleyton Hewitt during a practice session. Photograph: Jason Cairnduff Livepic/Action Images via Reuters
Hewitt, who mentors Kyrgios in his role as Australia Davis Cup captain, has now retired as a singles player having won two grand slam titles. He was involved in a bad-tempered doubles win with young compatriot Jordan Thompson against Spain's Nicolas Almagro and David Marrero on Saturday.
While he clearly still has the fire in his belly, he is acting as a calming influence on Kyrgios who has had several high-profile run-ins with authority in his short career.
"When he is playing I've not seen him do too much wrong here," Hewitt said.
"He knows I've got his back and we talk at different times. It's about focussing on what he needs to do.
"It's tough, there are a lot of eyes on him. But in a playing sense he likes being the centre of attention and likes the pressure that comes with that.
"Being the shot-maker that he is everyone worries that he can beat them."