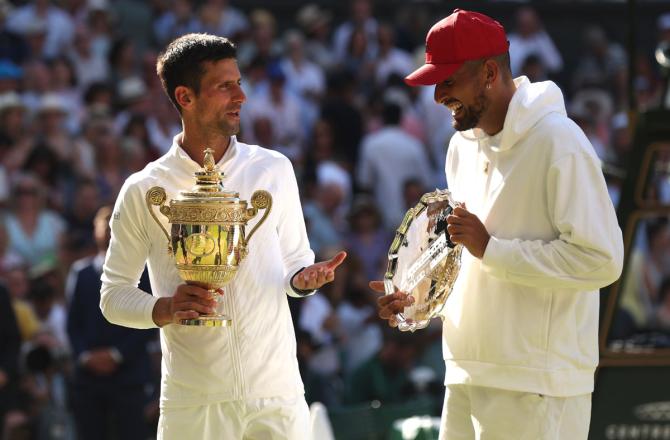 Nick Kyrgios took a cheeky dig at his critics after tickets for Friday's practice match with Serb Novak Djokovic sold out in 58 minutes, proving the Australian's huge box office draw.
Kyrgios had pulled out of the United Cup with an injury just minutes before his pre-tournament press conference, drawing the ire of Australian co-captain Lleyton Hewitt, his team mates and the media.
The 27-year-old has not played since October and an ankle injury forced him to skip warm-up tournaments in Adelaide as well, before Djokovic offered to play him in a practice match that will be played at Melbourne's Rod Laver Arena.
"Wow Nick Kyrgios is bad for the sport! Wow what a disgrace, a national embarrassment! How dare he sell out another stadium, the arrogance," Kyrgios said in a sarcastic tweet on Tuesday.
Former American player Noah Rubin questioned the timing of the exhibition match just before a Grand Slam to which Kyrgios responded: "Well to be fair it will bring more crowd than any of your matches."
Tickets for the match, a repeat of last year's Wimbledon final, were priced at A$20 ($14) each with the proceeds going to the Australian Tennis Foundation.
The Australian Open begins on Monday.