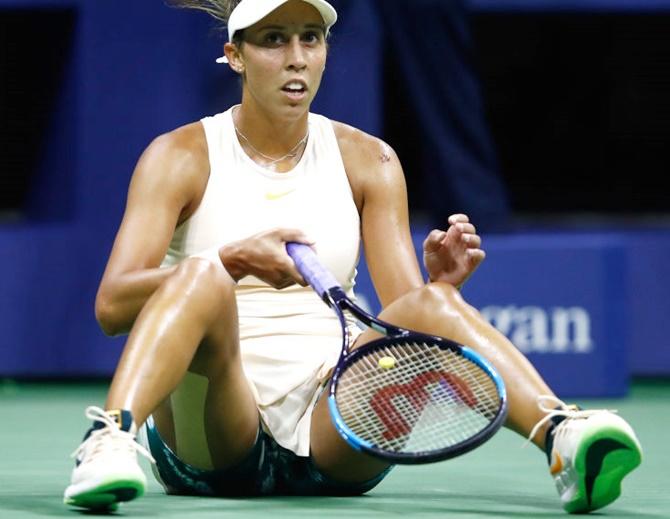 Madison Keys arrived in New York with the dream of making a return trip to the US Open final but her goal crumbled in such stunning fashion on Thursday that she may suffer nightmares for some considerable time to come.
Keys, who at 14 was the highest seed remaining in the women's draw, was a pale shadow of the player who had dropped just a single set en route to the semi-finals, where she ran into 20-year-old Japanese juggernaut Naomi Osaka.
The 23-year-old American had the backing of the home crowd but it was not enough to prevent her from committing 32 unforced errors in a 6-2, 6-4 defeat, during which she failed to convert any of her 13 break-point opportunities.
"I felt like if I could break, maybe I could get back into it. Every time I had a break point, it was an ace or a winner or something like that (from Osaka)," Keys told reporters.
"I mean, it's obviously tough because you keep fighting, trying to get the break point, then for her to come up with some of the shots, it was difficult.
"But you're in that match and you think, 'Okay, she's going to let up eventually.' She didn't, so... All credit to her."
For Keys, who this year reached the quarter-finals at the Australian Open and the semi-finals at the French Open, it was definitely a case of another missed opportunity considering the manner in which she reached the last four.
From the moment she took the court in her first-round clash last week, Keys played with the determination of someone who was dead set on avenging last year's lopsided final loss to fellow American Sloane Stephens.
However, Keys was unable to conjure up that form against Osaka, an opponent she had never lost to in three previous meetings.
Keys was ineffective at the net, broken three times and left playing catch-up for most of the contest as her inspired opponent stayed solid to set up a final showdown against Serena Williams on Saturday.
Still, Keys said she would take comfort in what she felt was a better showing than other times she bowed out of Grand Slams.
"Previously, I've felt like maybe I didn't play as well. I was more disappointed just in my level of tennis," Keys added.
"But I have to say, like, being down a set and a break, being 100 percent committed to fighting through the entire second set, I'm not disappointed in that."
"I'm walking away with a lot of good thoughts and feelings, just obviously disappointed I didn't get the outcome I wanted."