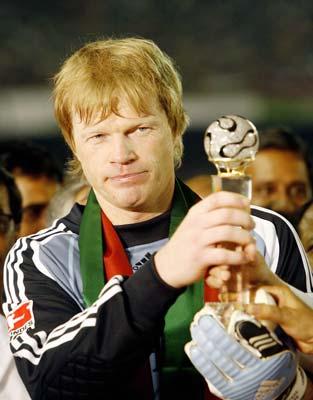 Legendary German goalkeeper Oliver Kahn played his last competitive match on Tuesday, against Mohun Bagan, and was greeted with a standing ovation by the capacity 1.2 lakh crowd at the Salt Lake stadium in Kolkata.
Bayern Munich beat Bagan 3-0
- Kahn of bittersweet memories
Kahn left the field on the 55th minute to a standing ovation by the spectators.
Players of both the teams (Bayern Munich and Mohun Bagan) clapped as the legend walked out of the ground. Kahn clapped back at the crowd in appreciation as he slowly walked out of the playing arena.
During the lemon-break, Kahn was presented with a diamond-studded gold-plated replica of a football by the main sponsor Bengal Peerless.
The ball was studded with 8,640 diamonds and was placed on a silver pedestal. Mohun Bagan team also presented Kahn with the replica of a silver boat -- the club symbol.
Overwhelmed at the felicitations, a visibly moved Kahn thanked the crowd and the organisers.
"I want to say thank you for this great moment in my career. This is very special. Thank you for this great night," Kahn told the fans in the stadium.
Photograph: Getty Images