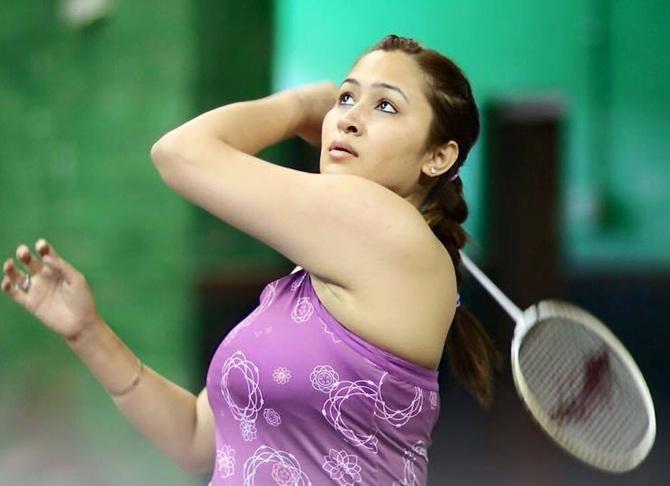 India's badminton doubles specialist and newly-appointed coach Jwala Gutta is known for being feisty. Not one to take things lying down, the Arjuna Awardee ripped apart a Twitter troll who called her mother anti-Modi.
Jwala's mother Yelen is Chinese.
The drama unfolded on Twitter out of nowhere. A man, who's Twitter handle reads @Siddhuheart began by asking Jwala's sister Insi about her political leanings, posting: "Is it because your mother is from China that y u oppose Modi everytime?"
This got Jwala fuming and she straightaway got into the discussion replying to the question with: "Think twice before you talk."
The reply instigated the man to continue: "Nt 2 offend, Just Tweeted to confirm. She is All Modi all da Time bt within Democracy rights. Modi is tirelessly workg 4 develm of country", to which Jwala replied: "Do not dare say another word...she has her right to have an opinion...we r very much Indian or more than u!! N yes I am offended!!!"
The man was keen to continue and an argument ensued as he maintained his wrongful stance.
"With all due respect to your parents I'm not questioning anyone. My intention (in fact I am eager) to know what makes her so Anti Modi."
Jwala was not having any of it and gave fitting replies: "When you bring my parents in the conversation.. u wish u didn't see that side of me!!! Mind it.
"Firstly, I've lost all respect for u!! So I don't think u will get any answer from me!! Second if u had any question.. ask straight!! Everyone has a right their opinion... as u do!! Doesn't mean anyone is anti anyone.. go google the meaning of democracy!"
Even after getting apt retorts, the troll didn't stop there and made the argument badminton-related: "If Modi Govt is not working for betterment of badminton or sports, convey it to Govt they will definitely work on it."
Finally having lost all patience, Jwala replied with a terse: "U have lost ur mind!! Another word..u shall be blocked!!"
IMAGE: Jwala Gutta is new women's doubles coach
Photograph: Facebook