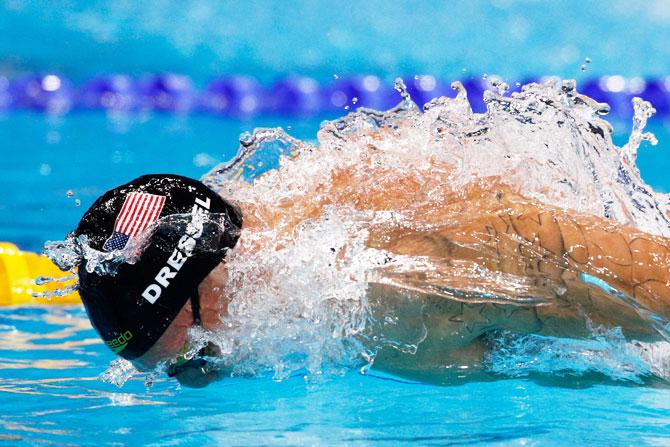 IMAGE: Caeleb Remel Dressel of The United States competes during the Men's 4x100m Medley Relay Final at the Budapest 2017 FINA World Championships on in Budapest, Hungary, on Sunday. Photograph: Adam Pretty/Getty Images
Caeleb Dressel of the United States heralded a new era in world swimming when he equalled the great Michael Phelps's feat of seven golds at a single world championships as the 17th edition closed on Sunday.
The 20-year-old Dressel underlined his credentials as the world's fastest starter in breathtaking fashion at the Duna Arena when he broke away on the butterfly leg to give the US gold in the men's 4x100 metres medley relay.
Dressel had already won three individual golds and three relay titles in Budapest and Sunday's addition allowed him to match his compatriot Phelps's tally from the 2007 championships in Melbourne.
He also helped the US to record their best-ever world championship haul, with 38 medals.
However the enormity of the Florida student's achievements had yet to fully sink in.
"I've never had it happen so I don't really know what to say," he told reporters.
"I'm going to take a little break in Europe, go to Poland and Scotland and just enjoy myself.
"It was probably the most fun I've had in eight days. It was an absolute blast getting to do what I love."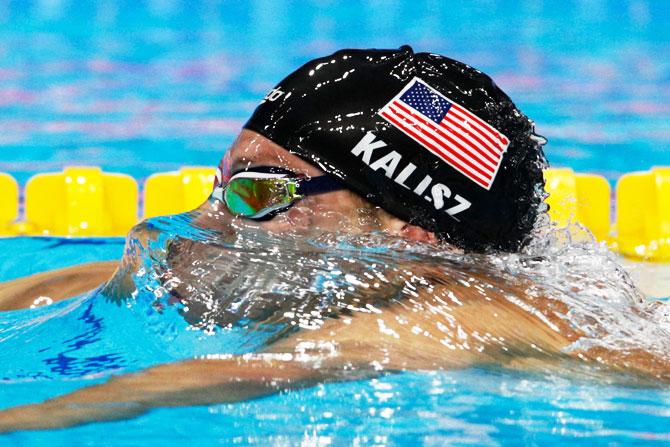 IMAGE: Chase Kalisz of the United States competes during the Men's 400m Individual Medley Final on Sunday. Photograph: Adam Pretty/Getty Images
Teammate Lilly King had kick-started the evening in blistering style with a world-record time of 29.40 seconds in the women's 50m breaststroke.
King beat Russian Yuilya Efimova to the wall by 0.17 seconds, with another American, Katie Meili taking bronze.
The atmosphere rose when Hungary's Katinka Hosszu glided to gold in the women's 400m individual medley, adding to her 200m medley title.
The 12,000-strong crowd roared Hosszu on to a championship record time of four minutes 29.33. Mireia Belmonte of Spain won silver, with Canadian Sydney Pickrem claiming bronze.
Chase Kalisz's breaststroke leg in the men's 400m individual medley also saw him land an individual medley double.
The American set a championship record of four minutes 5.90 seconds to become the third-fastest performer behind Phelps and Ryan Lochte.
David Verraszto of Hungary won silver, with Japan's Daiya Seto securing bronze.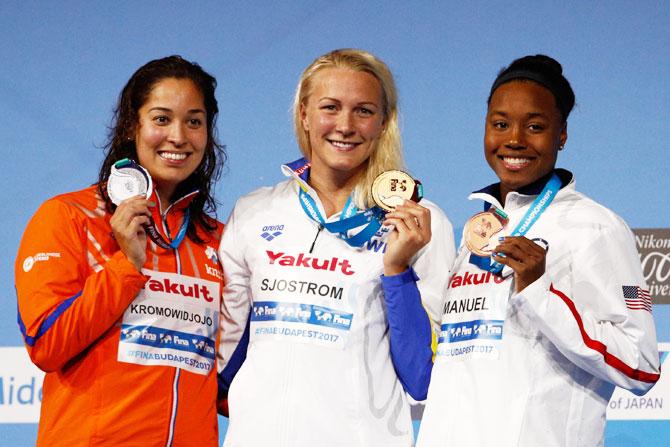 IMAGE: (Left-Right) Silver medalist Ranomi Kromowidjojo of the Netherlands, gold medalist Sarah Sjostrom of Sweden and bronze medalist Simone Manuel of the United States pose with the medals won in the Women's 50m Freestyle Final on Sunday. Photograph: Adam Pretty/Getty Images
"Michael and Ryan are my idols so just to be behind them is cool for me to think about," Kalisz told reporters.
Swede Sarah Sjostrom won her third individual gold in the women's 50m freestyle to wrap up a memorable championships which also included two world records.
The 23-year-old paced herself perfectly to hold off Ranomi Kromowidjojo of the Netherlands in 23.69 seconds. Simone Manuel of the US won bronze.
Sjostrom said: "It was a really good first 25m but the finish was really bad. But it doesn't matter what time it is, the only thing that mattered was that gold."
Camille Lacourt of France delivered the perfect hors d'oeuvre for his new life as a Paris restaurant owner by blazing his way to a hat-trick of men's 50m backstroke world golds.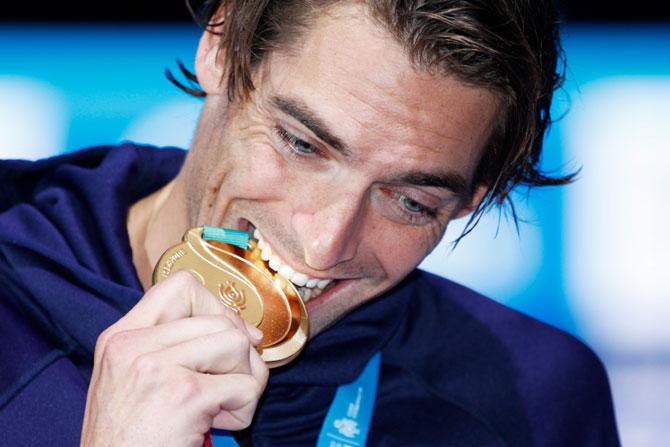 IMAGE: Camille Lacourt of France celebrates his gold medal in the Men's 50m Backstroke Final on Sunday. Photograph: Adam Pretty/Getty Images
Lacourt, 32, bowed out of the sport in style as his 24.35 seconds saw off Japan's Junya Koga and Matt Grevers of the US into the minor medals.
King and Manuel then helped the US to set a world record on the way to women's 4x100m medley relay gold.
That paved the way for the US relay men's golden finale, with Britain finishing in silver 1.04 seconds behind.
In their dominating performance at the championships, the US claimed six of the 11 world records set in Budapest. Katie Ledecky, who did not swim on Sunday, finished as the leading female swimmer with her five gold medals and one silver. Manuel collected five golds and a bronze.