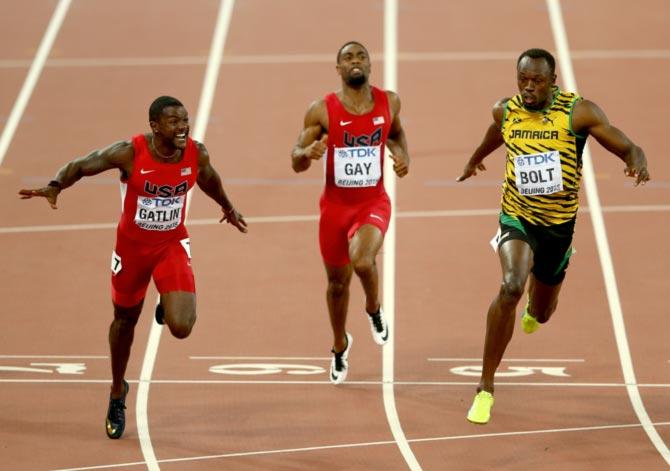 IMAGE: Usain Bolt (right) crosses the finish line ahead of Justin Gatlin (left) to win gold in the men's 100 metres final at the 15th IAAF World Athletics Championships in Beijing, on August 23, 2015. Photograph: Michael Steele/Getty Images
US sprinter Justin Gatlin believes he is steadily catching up with Olympic and world champion Usain Bolt as the two head towards a likely showdown at the Rio de Janeiro Summer Games next year.

Gatlin, who has twice served bans for doping, was unbeaten at 100 and 200 metres in 2015 until he faced an out-of-form Bolt going into the World Championships in Beijing last month.

However, Bolt won the 100 metre final in 9.79 seconds, just 0.01 of a second ahead of Gatlin, before securing gold in the 200 metres in more convincing fashion.

"It's all about growth and getting better and better," Gatlin told a news conference in Brussels when asked about how he could beat Bolt.

"The margin of the race is getting smaller and smaller. I just have to make sure I step my game up."

Gatlin was running 100 metres consistently in about 9.8 seconds last year and has pulled closer to 9.7 seconds in many races this year.

"So next year I hope to do even better," he said, ahead of Friday's final Diamond League event of the season in the Belgian capital.

Gatlin has agreed to run the 200 metres as well as the shorter sprint after Bolt pulled out of the former citing a need to recharge before preparing for Rio.

The 33-year-old American said he does not believe that age is against him in his search for even faster times.

"I don't think I'm going to hit a limit, like I'm 34 and I can't learn anything anymore," he said.

"I think a lot of athletes when they get in their mid and late 30s, they focus more on kids, on family... In the last three years, I just focus on being a better athlete and trying to improve my flaws."

Gatlin said he has no thoughts of retirement and expressed a desire to keep going while he continues to be his country's top sprinter.

"The goal is with these young athletes, I'm going to give them the opportunity to knock me off the podium. If they do and all I can be is the alternate in the relay, then I'll know it's time to go, but until then I'm having fun with it."