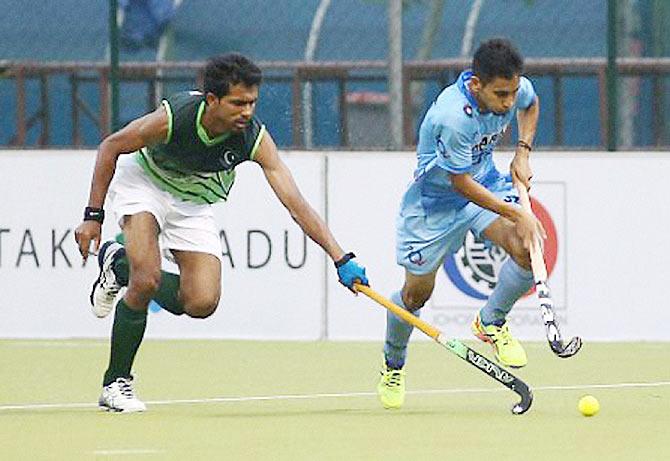 IMAGE: A player from India's Junior team and his Pakistani counterpart in action during the 5th Sultan of Johor Cup match in Johar Bahru, Malaysia, on Sunday. Photograph: PTI
Defending champions India began their campaign in style by thrashing arch-rivals Pakistan 5-1 in the 5th Sultan of Johor Cup junior hockey tournament in Johor Bahru, Malaysia, on Sunday.
The Indian boys dominated the entire match as they registered an easy win in their opening match.
The Indians went for attack immediately after the start of the match, not wanting to waste any time and in the fifth minute scored their first goal as Ajay Yadav flicked the ball into the opposition net.
India intensified their attack, keeping the Pakistan defence busy all through. Mid way into the first half, India were awarded their first penalty corner but the opportunity was missed as the Pakistan goalkeeper cleared the danger.
Pakistan counter-attacked and were given a penalty corner, but they were unable to capitalise as the Indian goalkeeper was alert and in control.
India scored their second goal in the 23rd minute as Dipsan Tirkey, from the left flank, passed the ball to Sumit Kumar who was right in front of the goal and made no mistake in finding the net.
In the 27th minute, Armaan Qureshi got India's third goal before adding another just before going into the break. It was in the 34th minute when Parvinder Singh struck through a brilliant field goal.
Pakistan opened their account in the 45th minute as Muhammad Dilber scored through a field goal.
Half way into the second session, Pakistan had another chance but wasted their penalty corner. In the very next minute, India were again on the attack and a Harmanpreet Singh set up Santa Singh for their fifth goal.
India will face Great Britain in their next match on Monday.