Spain upset last year's bronze medallist Netherlands 2-1 in a classification match on Saturday to set up a clash against Argentina in the fifth-sixth place play-off of the men's Junior Hockey World Cup, in Lucknow on Saturday.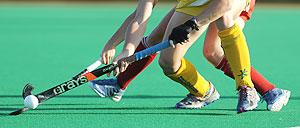 Spain struck twice in the opening half through field goals from Llorenc Piera Grau (30th) and Lucas Garcia Alcalde (34th) to take a 2-0 lead at half time.
Netherlands managed to pull one back in the 64th minute through Jorrit Croon's field strike but the Spaniards defended well thereafter to secure the victory
Earlier in the first fifth to eighth classification match of the day, 2005 champions Argentina spanked England 3-0 to set up a duel against the Spaniards.
After a goalless first half, Argentina struck thrice from field play through Nicolas Acosta (40th minute), Ignacio Nepote (55th) and Maico Casella (61st) to register the thumping win. Netherlands will now face England for the seventh-eighth positions in the 11th edition of the tournament.
Later in the day, New Zealand thrashed South Africa 4-1 to finish ninth in the tournament.
Malaysia finished 11th after beating Austria 2-1 in shoot-out.
In the 11th-12th place classification match, Malaysia raced to a 2-0 lead through two field goals from Zulhamizan Mohamad (8th) and Aiman Nik Rosemi (14th).
But the Austrians, coached by former India international Cedric D'Souza, did not give up and staged a remarkable through goals from Oliver Binder (26th) and Peter Kaltenbock (41st) to finish tied at 2-2 after regulation time and take the game into shoot-out.
In the shoot-out, Aiman Nik Rosemi and Rafizul Mustafa scored for Malaysia, while Philip Schmidt was the lone player on target for the Austrians.
Image used for representational purposes