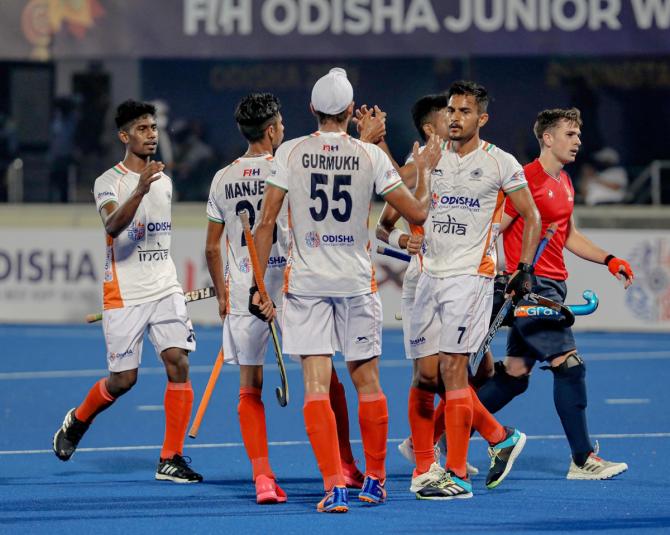 Vice-captain Sanjay scored a brilliant hat-trick but it was not enough as defending champions India were stunned by unfancied France in their opening Pool B match of the FIH Junior Hockey World Cup, in Bhubaneswar, on Wednesday.
Skipper Timothee Clement (1st, 23rd and 32nd minute) scored a hat-trick, while Benjamin Marque (7th) and Corentin Sellier (48th) were the other goal-scorers for world No. 26-ranked France.
Sanjay (15th, 57th, 58th minute) converted three penalty-corners while Uttam Singh (10th) scored India's other goal.
Earlier in the day, Belgium beat South Africa 5-1 in their first Pool A game, Germany got the better of Pakistan 5-2 in Pool D and Canada lost to Poland 0-1 in Pool B.
France stunned India in the first minute when a lazy defence was caught off guard by Clement.
The brave Frenchmen punched above their weight and continued to attack the Indian citadel, which resulted in a second goal through a field strike from Marque.
Down 0-2, the stunned hosts responded within three minutes and pulled a goal back with a field strike from Uttam.
The defending champions maintained the pressure with a flurry of attacks but the French defence stood tall to thwart them.
India equalised at the stroke of the first quarter through a penalty-corner, converted by Sanjay.
Minutes into the second quarter, India earned their third penalty-corner but Uttam Singh was way off the target.
France took regained the lead in the 23rd minute when skipper Clement scored from a penalty-corner.
The Frenchmen continued to attack and earned a couple of penalty-corners but the Indian defence stood tall.
Two minutes from half-time, India secured their fourth penalty-corner but the French goalkeeper produced a terrific save to deny the hosts, who went into the breather trailing 2-3.
Two minutes into the third quarter, France extended their lead after forcing three successive penalty-corners, the last of which was converted by skipper Clement, to take a 4-2 lead.
India secured another penalty-corner in the 38th minute but wasted the opportunity.
In the 48th minute, France made the scoreline 5-2 when Sellier scored with a field gosl.
Trailing by three goals, the Indians went all out turn around the script and, in the process, attacked the French defence repeatedly.
Sanjay scored twice again from penalty-corners in the 57th and 58th minutes to reduce the scoreline to 4-5, but it was not enough to prevent the Frenchmen from registering the first upset of the tournament.