Shaped in the famous philosophy of European club champions FC Barcelona's one-touch football, this 22-year-old is a nomad of sorts.
A product from the stable of La Masia, Spaniard Josue Currais-Preito honed his chops playing in La Liga club Espanyol's youth team before crossing shores and moving to lesser-known clubs across Europe.
In the hope of finding greener pastures, he moved to India this season and will ply his trade for the Sachin Tendulkar-owned Kerala Blasters FC in the second season of the Indian Super League.
Ahead of Kerala Blasters' campaign opener against NorthEast United FC in Kochi on Tuesday, October 6, the youngster tells Norma Godinho/Rediff.com he is looking forward to wow Indian crowds with his technical acumen.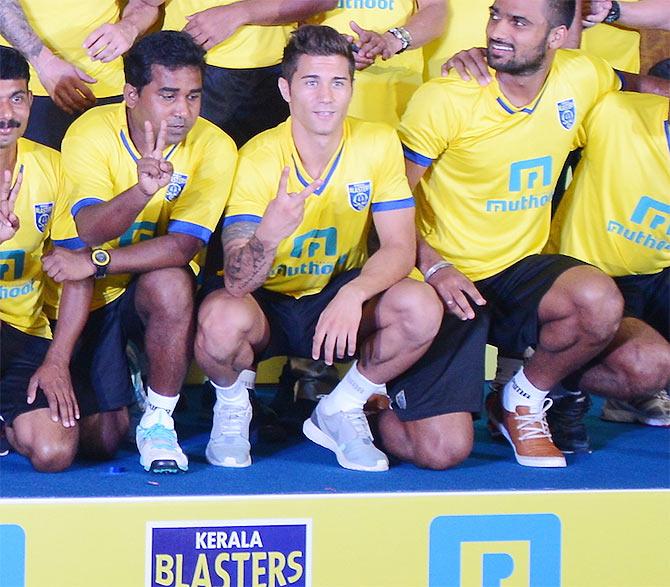 IMAGE: Kerala Blasters' Spanish midfielder Josue Currais Preito (centre) with his teammates during a photocall
As followers of the 'Beautiful game', few will fail to recognise the words 'La Masia'. It's that revered football youth academy that has given us modern football idols of the stature of Lionel Messi, Xavi Hernandez, Andres Iniesta and Chelsea's Cesc Fabregas, to list a few.
Their excellent footballing standards have been well-documented over the years, and to give us a glimpse of that very quality of top-class football here is a La Masia graduate -- Josue Currais Preito.
The Spaniard, signed on by Kerala Blasters FC for the second season of the Indian Super League, will add some beauty and finesse to the squad.
Having shown promise in his teens, Josue was sent to La Masia to fine-tune his skills.
"I was sent to La Masia when I was 16-years-old. I was there for two-and-a-half years. It was the best experience of my life. Life there is different. It's just another world completely. It was a totally different experience, and if I can put it this way, they treated me like a god!" says the 22-year-old in heavily accented English.
A midfielder, who doubles up as a left-back when the occasion demands, Josue's strengths mirror the philosophy of the Barcelona youth academy. Possession football.
"At La Masia we do a lot of technical training; I mean, a lot of training with the ball. We do the same training everyday and that is what makes you technically sound, like you see in Barcelona's first team.
"I'm a number 10 player, but being a small guy my skill and priority is to keep the ball. I like to have the ball at my feet and play easy," he adds.
IMAGE: Kerala Blasters' Josue Currais Preito (right) goes through the grind at a pre-season training session in Kochi. Photograph: Kerala Blasters/Facebook
Josue, who trained in the academy alongside FC Barcelona's first team regular Brazilian Rafinha and Everton winger Gerard Deulofeu, reveals that he had a memorable time when he trained with members of the FC Barcelona squad last season.
"I trained like ten times with them because the last year I was there. I played pre-season with them – training, matches. It was a fantastic experience because I learnt a lot from them. They play another level of football totally," the Catalonian said.
Josue comes across as a shy person, but that has not stopped him from being a journeyman footballer.
Following his stint at La Masia, he moved to Espanyol's youth team and from there shifted to other leagues across Europe.
In the 2013-14 season, he played for Finnish club Seinäjoen Jalkapallokerho (SJK) where he scored 9 goals in 31 appearances and won the Finnish League Cup in 2014 with the club.
He then moved to (SJK's B team) Kerho 07, where he was given only three matches. In those few outings, though, he managed to get his name on the scoresheet in all.
Italian Serie D club Terracina Calcio 1925 also saw some of his skills briefly. He then went to Poland (got limited opportunity at Górnik Leczna) before making the India move.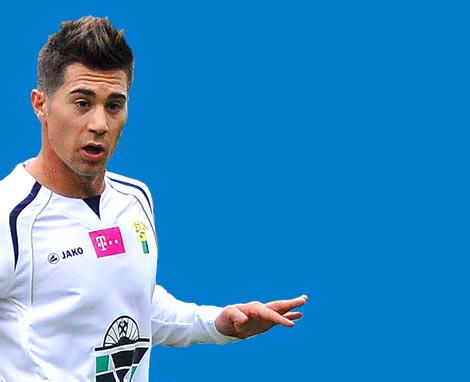 IMAGE: Josue Currais Preito
"My manager knows David James (Kerala Blasters' marquee player-manager). Last year I could come here but because I already had a team I didn't come.
"I also spoke to some players who had played in ISL last year... Arnal (Spanish player Arnal Libert) who played for Atletico de Kolkata and Victor Herrero (Kerala Blasters' Victor Herrero Forcada) before making the decision.
"They told me it's a fantastic experience and that this stint could open up opportunities for the future as there are quality scouts to help build my contacts and networks."
The Blasters commenced training in right earnest two weeks ago in the heat of Kochi and Thiruvananthapuram and Josue says the club is better-prepared than the rest.
"The weather is so hot. I'm yet to adapt to the conditions but this is India so I can just hope to play consistently and do my best.
"But by the time the ISL starts we will be ready and adapted to this weather. We are in better position that way because while other teams went to Spain and Italy for pre-ISL training we have trained in the country. Training in this heat, having an idea of it, gives us an edge over our opponents and we are ready to play."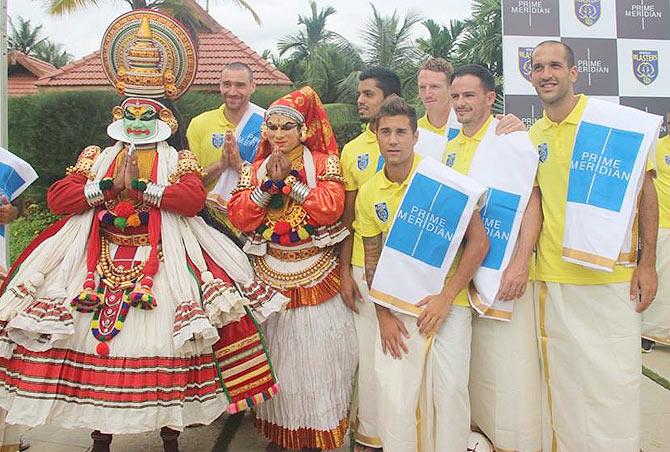 IMAGE: Josue Currais Preito (3rd from left) with his Kerala Blasters teammates at an sponsor event on Saturday. Photograph: Kerala Blasters
Josue is self-assured that the team has the necessary ingredients to win the tournament.
"Peter Taylor is a big name in England and in Europe, and the training has been quite good. We are a young team and we have trained well together. We have good quality of Indian players too -- Cavin Lobo, Vineeth, Sathish, Mehtab, Sameer – they have good technique and are fit. They are much fitter than me! We want to win the ISL and we have the team to do that."
Outside the training grounds of Kochi and Thiruvananathapuram, he appreciates the "warm and loving Indian people" and his love for Indian food, "especially Indian bread (roti)".
He also made a confession about Kerala Blasters owner, Sachin Tendulkar, that could upset the cricket legend's fans.
"To be honest, I did not know anything about Sachin. But when I came here every Indian player told me that Sachin is a very big person in India. I met with him one time and he comes across as a very good person.
"Also, I didn't know what cricket is, because in Spain we really don't follow the sport."
All will be forgiven, however, if Josue plays to his potential and turns a few matches the Blasters' way this ISL season.