Traditional Indian sports have been played in villages since ages.

Though most sports lovers in the country follow cricket, hockey, tennis and even English football on television, disciplines like kabaddi, archery and wrestling are fast catching up. But there are some sports people hardly know anything about. Take a look.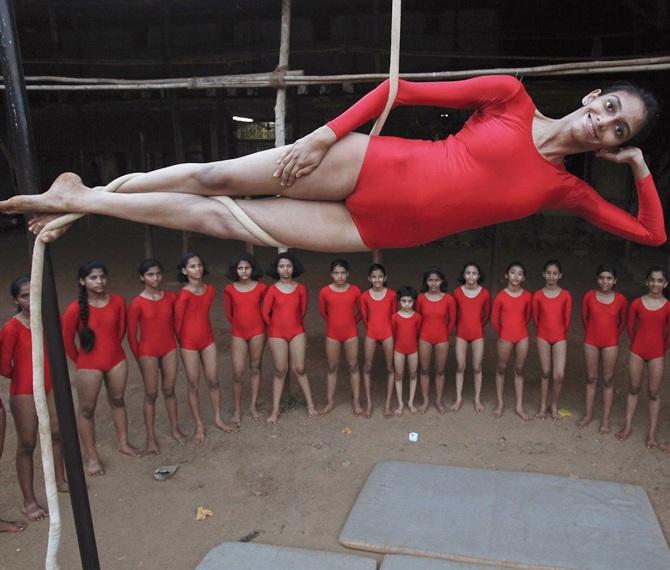 A girl practises a Mallakhamb pose while suspended from a rope. Photograph: Vivek Prakash/Reuters
Mallakhamb is known as the Indian version of gymnastics combined with martial arts. Athletes perform acrobatic feats on a rope and pole.
To excel at Mallakhamb one has to have controlled movement and perfect body balance. More than anything, the sport calls for intense mental concentration.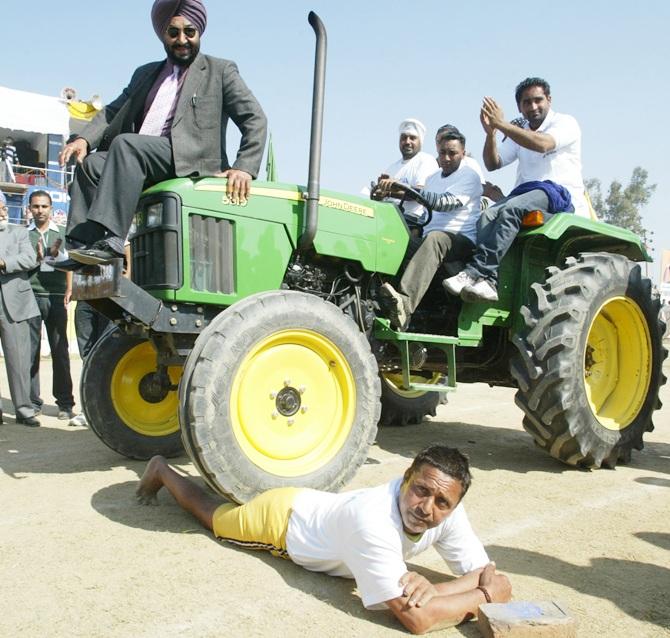 Balbir Singh Mirza performs a stunt where a tractor is driven over him during the Kila Raipur sports festival. Photograph: Munish Sharma/Reuters
The farmers of Punjab have been hosting the Kila Raipur Sports Festival, called Rural Olympics, near Ludhiana, in Punjab every year since 1933.
Motorbike stunts, pulling vehicles with the hair, ears and teeth, acrobatics on horseback, racing bullock carts, wrestling, weightlifting, lifting bicycles with the teeth – these are just a few of the astonishing events that one can witness during this sports festival. It is definitely not recommended for the fainthearted!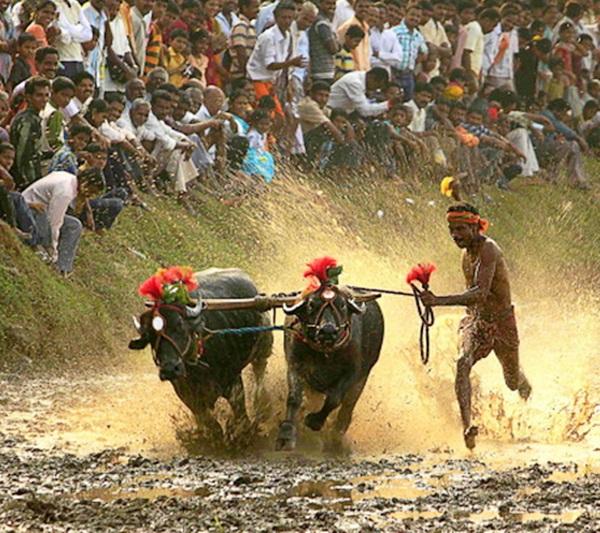 Kambala Buffalo Race. Photograph: Getty Images
Kambala Buffalo Race was originally practised as a symbolic thanksgiving to God for keeping the bovines protected against diseases.
The race is annually held in coastal Karnataka.
The 'track' used for the race is a lush green paddy field and the contest takes place between two pairs of buffaloes controlled by a whip-lashing farmer.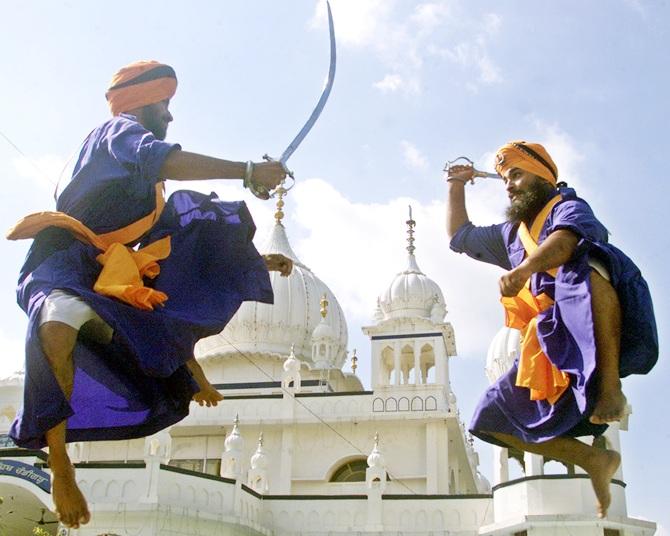 Nihangs or Holy Sikh warriors practice Gatka, a traditional martial art. Photograph: Ajay Verma/Reuters
The Sikhs developed Gatka as a martial art form to be used in self-defense against the Mughals.
This sport of Punjab draws its name from the wooden sticks used for sparring.
Gatka can be practiced either as a sport or ritual. The sport form is played by two opponents wielding wooden staves called gatka. These sticks may be paired with a shield. Points are scored for making contact with the stick.
With actions performed to the accompaniment of drums and chanting of the holy verses, this sport of Punjab draws its name from the wooden sticks used for sparring.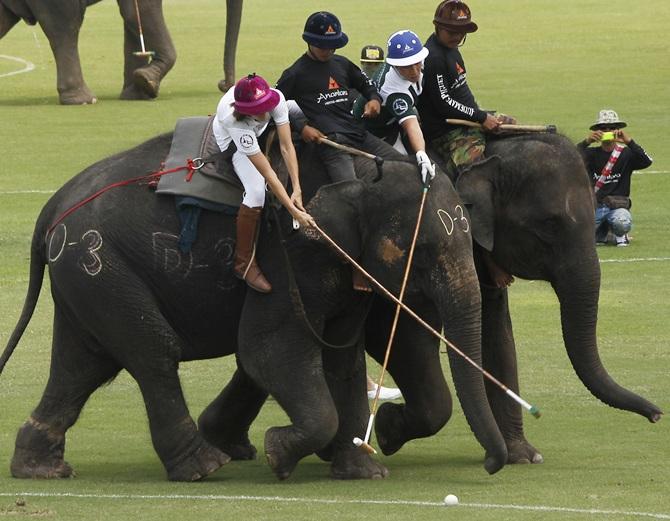 A player from the Peninsula team (blue hat) fights for the ball with a player from the Mercedes-Benz Thailand during their 2014 King's Cup Elephant Polo Tournament in Samut Prakan province, on the outskirts of Bangkok. Photograph: Chaiwat Subprasom/Reuters
Polo is played on horses and in the water; but it is played with elephants, too!
It is played that way in Nepal, Sri Lanka, Rajasthan (India), and Thailand.
The game seems to be endless given the massive size of the elephants and the time it takes for the player to manoeuver them around to hit the ball.
Equipment consists of a standard polo ball and six to ten foot cane (similar to bamboo) sticks with a polo mallet head on the end. Believed to have originated during the 1900s, this game is popular among the women who are allowed to use both hands to hold the polo stick unlike the men.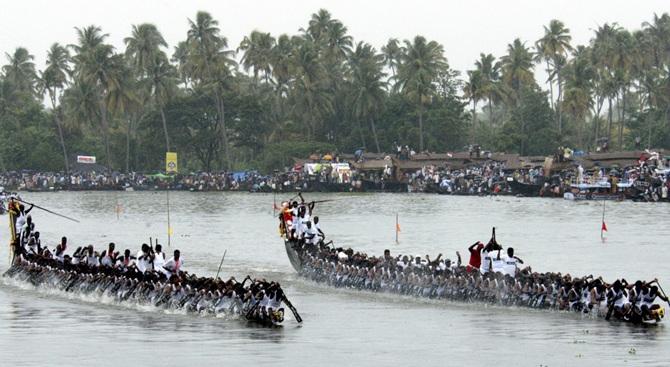 Oarsmen row their snake boats during the Nehru boat race in the waters of Punnamada Lake in Alleppy, Kerala. Photograph: Dipak/Reuters
Vallam Kali is a traditional boat race in Kerala.
The Nehru Trophy Boat Race is a popular Vallam Kali event held in the Punnamada Lake near Alappuzha. It is mainly conducted during the season of the harvest festival Onam.
The snake boat race of Alleppey is a major tourist attraction.
Moving with a rhythm, the paddlers work in perfect synchronization and the roaring crowds act as their cheerleaders.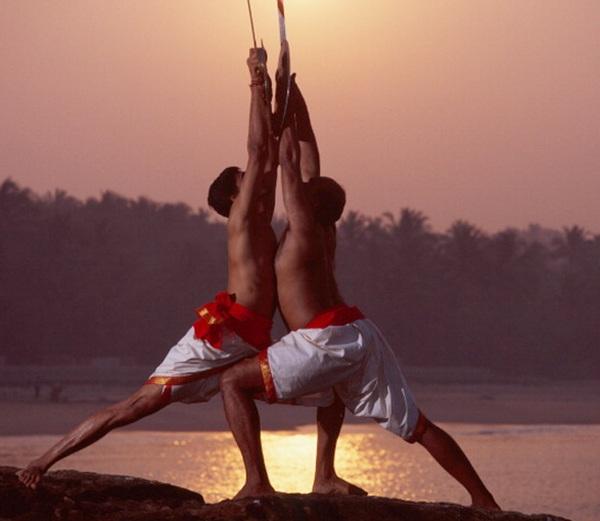 Kalarippayattu, a typical martial arts form of Kerala. Photograph: Getty Images
Kalarippayattu, a typical martial art form of Kerala, has been hailed as the 'mother of all martial arts'.
It consists of kicking and striking action and often accompanied by the use of weapons in self-defense. Kalarippayattu is marked by an inherent grace that makes it a pleasure to watch.
Yubi Lakpi is a traditional game of football played in Manipur but instead of a football it uses coconut as the ball.
The sport is played like rugby with coconut in the players hands. The two teams battle for an oil-soaked coconut that they have to carry through the goal line to a box placed at one end of the field.
It literally means 'coconut snatching'.