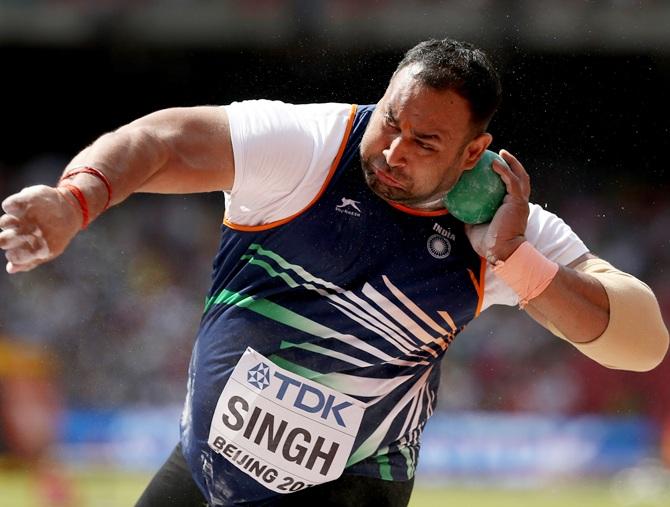 India's Inderjeet Singh competes in the men's shot put qualification. Photograph: Andy Lyons/Getty Image
Shot putter Inderjeet Singh finished last in the final round to end his maiden World Athletics Championships appearance in disappointment while 20km race walkers also failed to make a mark on the second day of competitions, in Beijing, on Sunday.
The Indian camp was expecting a good show from Inderjeet, the reigning Asian champion, after he made it to the final round as one of the 12 best performers in the qualifying session in the morning with a best throw of 20.47m.
In the final round, however, he failed to rise up to the occasion and finished last among 11 competitors as American Christian Cantwell did not turn up at the Bird's Nest Stadium.
Inderjeet, who has a personal best of 20.65m, began the final round with 19.52m before fouling his second throw. Pressure piled on him to come up with a big throw in his third attempt but the Indian, who also won a bronze medal in the Asian Games, could only come up with a disappointing 18.68m to end his campaign.
After three rounds, those ranked below top eight are eliminated and Inderjeet was among one of those who made the exit. Inderjeet though had the satisfaction of becoming the only Indian shot putter ever to make it to the final round of World Championships.
In the first event of the day, Baljinder Singh was initially adjudged to have finished at 12th with a timing of 1:21:44 which would have been his personal best effort. But, the organisers later changed the result, showing Baljinder among those walkers who did not finish the race.
In men's 20km race walk, the two other Indians Gurmeet Singh 1:25:22) and Chandan Singh (1:26:40) finished 35th and 41st respectively -- both one places up from initial result which had shown Baljinder at 12th -- only to be changed later.
When contacted about the change of Baljinder's result, an AFI official said, "Baljinder mistook the signal given to a walker ahead of him to enter the stadium as a signal given to him and so he entered the stadium and finished the race.
"But the organisers later found out that Baljinder was one lap short to be allowed to enter the stadium and so he was declared DNF. Baljinder had not done that intentionally and these things happen in race walk," the official said.
Judges supervising walk races normally announce the number of laps each competitor completes and give signal when they can enter the stadium to finish the race.