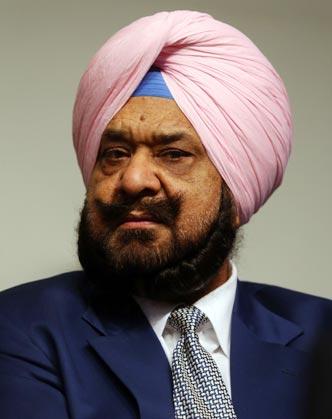 International Olympic Committee's member in India Randhir Singh on Wednesday asked the officials of suspended Indian Olympic Association to accept the IOC's directive to bar charge-framed persons from contesting elections or face further action from the world body.

"My friends in IOA are misinformed. They don't realise the gravity of the situation. They don't realise that what IOC says, it has to be accepted. You can't go against the IOC but yes, you can negotiate with them, you can discuss with them on certain other matters. It's time a clean set-up comes into place," said Randhir.
- Why the IOC banned the Indian Olympic Association

The Indian Olympic Association has continued to be in a defiant mood despite the IOC's tough stand on the chargesheet clause. It had decided in its Special general body meeting last month that only those who were sentenced for two or more years would be barred from contesting polls.

The IOC stood firm on its stand during its Executive Board (EB) meeting in Buenos Aires earlier this month and asked IOA to accept all demands in full, including barring charge-framed persons from contesting IOA's elections.

Randhir, who was IOA secretary general before the Indian body was suspended by the IOC on December 4 last, said had he been in the eye of storm, he would have recused himself from discharging duties.

"If it was me, I would have moved away. It's up to them to answer it and come clear on the issue," he said.

The veteran administrator also rubbished claims that he should be held responsible for dragging Indian sports into this situation.

"It's nothing personal about the IAO. If the IOC says that this is as per the Olympic charter, then you have to follow them," he told CNN-IBN.

Randhir said the IOC is furious with India's U-turn on the issue after Indian representatives from the government and sports bodies had reached an agreement with IOC officials at a meeting in Lausanne in May to frame a roadmap for the country's return to the Olympics fold.

"Christophe de Kepper had written a letter after the meeting and in that letter, he had mentioned it very clearly that this was what you agreed upon and now you have done a
u-turn on it. This is the problem which is taking place," he said.

Asked whether tainted officials like suspended IOA's president Abhay Singh Chautala and secretary general Lalit Bhanot should step aside on their own from the current set-up, Randhir said, "This is something I can't answer. This is one question you should put to them and not me."
Photograph: Alexander Hassenstein/Getty Images