The Sports Minister Jitendra Singh has backed International Olympic Committee's decision to stick to its stand on the chargesheet clause and urged the IOA to incorporate the required amendments in its constitution so that the interest of country's sportspersons do not suffer.
The IOC, on Thursday, clearly told the Indian Olympic Association to adopt the chargesheet clause in its constitution in order to ensure good governance.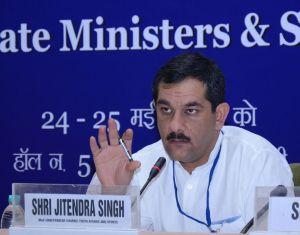 "There are certain issues IOC is insisting on. One of the major ones is ethics and good governance. So, I hope better sense prevails and the IOA incorporate some of the changes, which the IOC has suggested," the minister said on Thursday.
"I don't think there should be a problem in incorporating these changes because it is a part of the Olympic Charter. It is nothing new that the IOC is saying," he added.
Jitendra termed IOA's reluctance to amend its constitution in accordance with the IOC's suggestion as "sad" and asked the association to give preference to the interest of the sportspersons.
"It is sad that the IOA did not modify their constitution as per the international guidelines, international benchmark or as per the Olympic Charter.
"I would like to request the IOA to consider the modifications in their constitution, keeping in mind the interest of the sportspersons and not some individuals' interests. It is very, very unfortunate that some individuals' interests took precedence over nation and the sportspersons," he said.
The Minister, however, insisted that there should be an alternative solution so that the country's sportspersons do not suffer.
"The IOC has a no tolerance on ethics (violation). The Government of India has the same stand as the IOC on ethics and good governance. We are in sync with the IOC.
"In the past also we have requested and again we are going to request to the IOC that there should have an alternative method in which the sportspersons of the country can contest under the Indian flag," said Jitendra.
"I have spoken to the IOC president and have urged the IOC to think about the Indian sportspersons," he added.
Jitendra made it clear that the Government would continue to do everything in its power to safeguard the interest of the athletes.
"Sports Ministry have had various meetings with the IOC, IOA and other stakeholders in the past. I tried everything in my power to see the national interest and interest of the sportspersons," he insisted.
The IOA has been in exile since last December when the IOC's executive board suspended India after Lalit Bhanot, who is facing corruption charges linked to the scandal-hit New Delhi Commonwealth Games in 2010, was elected secretary-general of the IOA.
Image: Jitendra Singh
Photograph: PIB