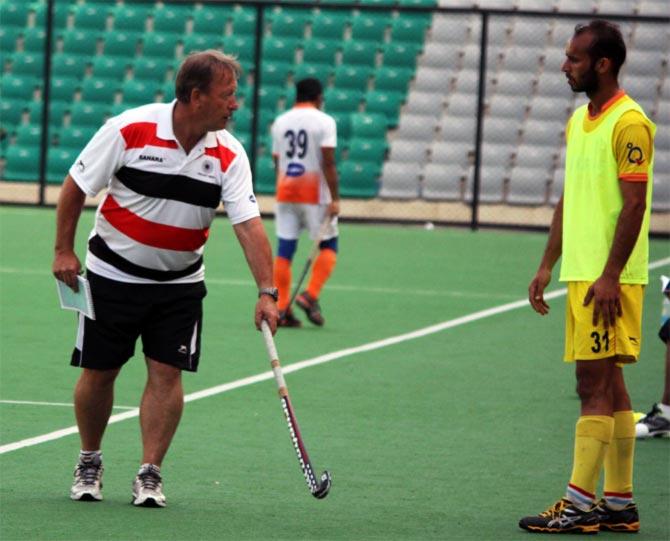 Terry Walsh during training with the Indian men's hockey team. Photograph: Getty Images
A day after his dramatic announcement to quit, Terry Walsh decided to continue as India's chief hockey coach after the country's top sports officials assured him that his concerns will be addressed in a fresh contract.
After a hectic meeting with the Sports Ministry and Sports Authority of India officials, the 60-year-old Australian withdrew his resignation, much to the relief of the country's hockey fraternity.
Walsh's decision was announced by Sports Minister Sarbananda Sonowal in a tweet.
"I am happy that after SAI's efforts #TerryWalsh is back. Looking ahead for a bright future for hockey in India," he posted on Twitter.
The Sports Authority of India issued a statement, giving details of the meeting, and made it clear that Walsh, who guided India to a historic hockey gold at Incheon Asian Games, had no financial issues with them.
"During the discussion, he made it very clear that he has no problems with regard to the tax deduction or remuneration. His major concern was about the lack of functional autonomy in deciding the technical matters relating to hockey," read a statement from SAI Director General Jiji Thomson.
"He was of the view that he, along with the High Performance Director, need to be given more freedom in the decision making process. From SAI side, we have absolutely no issues on this. This is a matter that needs to be discussed with Hockey India," the statement added.
Thomson also said a meeting, under the chairmanship of the sports minister, will be called soon to thrash out all issues.
"We intend to convene a meeting shortly under the Chairmanship of the Hon'ble Minister(i/c), Skill Development, Entrepreneurship, Youth Affairs & Sports, wherein, SAI, Ministry of Sports, Hockey India and Terry Walsh for thrashing out this issue."
Another issue raised by Walsh was the number of holidays he is entitled to.
"This is an issue that could be sorted out and we have expressed our readiness to reconsider the holiday package," Thomson said.
"We have also requested Mr Terry Walsh to help us in preparing a long term athlete development plan for hockey. He has readily expressed his willingness to get the best experts available and prepare this plan," Thomson added.
Asked whether Walsh has withdrawn his resignation, Thomson said there was no need for that.
"Walsh has not withdrawn his resignation. As per the contract, he has to give one month notice for resignation. Since the resignation will officially come into effect from 19th November, 2014, it was decided that the contract will be renewed before 19th November, incorporating these clauses.
"Walsh expressed his satisfaction and appreciation for the steps taken by the Ministry of Sports & SAI and assured his continued support for Indian Hockey."
Walsh, a noted Olympian himself, created a flutter on Tuesday by suddenly announcing his resignation, saying that he was finding it difficult to adjust to the decision-making style of the sporting bureaucracy in the country.
"In addition to my difficulties with not being able to professionally operate within these bureaucratic confines, I am not willing to continue with the constant time away from my family in Australia. My current commitment places too much stress on my personal life," he had said in his letter to SAI.
His resignation sparked off a blame game between Hockey India and SAI. While HI maintained that the pay dispute and suffocating bureaucracy had prompted Walsh to quit, SAI rubbished that claim, saying that the Australian had never complained of any financial issues.
Hours after tendering his resignation, Walsh himself had hinted that he could reconsider his resignation and re-negotiate with SAI if his concerns were addressed.
Walsh and some other support staff had issues with the government over TDS (Tax Deduction at Source) in their salaries.
Thomson though had denied that there were any issues over TDS and said the problem was created by Hockey India president Narinder Batra. He dismissed the issue as "canards" on the part of Batra.
The SAI DG said "sporting bureaucracy" mentioned by Walsh could also be Hockey India.
Surprised at Walsh's sudden resignation, Sonowal had sought a report on the issue from SAI and his own secretary within 24 hours.